Evaluation du remplissage du carnet de santé des nouveau-nés : évaluation des pratiques professionnelles, réalisée à la maternité du CHRU de Nancy du 9 mars 2020 au 25 septembre 2020
Since its creation in 1968, the health record has evolved considerably. It plays several important roles in the long-term monitoring of children's health. Since 2006, the quality of filling in the health booklets has not been evaluated, whereas a new model of booklet was published in 2018. The objective of our study was to objectivize the frequency of filling of health notebooks before the discharge of newborns from the maternity hospital. For this purpose, we conducted a quantitative study of the filling of the health booklets at the maternity hospital of the CHRU of Nancy. In addition, our secondary objectives were to objectivize the impact of the care pathways of the mother and the newbornson the frequency of filling the health record. We found that the overall completion rate of the health records was 77.1% at the time of discharge from the maternity hospital. The information relating to the prenatal period was filled in 39.4% of the cases, those of the pernatal period in 80.05% of the cases and those of the postnatal period in 93% of the cases. Information on the course of the pregnancy remained poorly filled in, regardless of the follow-up care pathway, with a completion rate of 45%. However, this information can only be included in the health record with the mother's consent. Some items are influenced by the care path followed by the mother or the newborn. The information relating to the delivery, the examination of the child at birth and before discharge are better filled in in the care pathways for vaginal delivery. In fact, we noted a break in the completion of the cesarean section. No midwife was present in the operating room to ensure that the health records were filled out synchronously. Items concerning infectious risks have been added since the last version of the health record at the request of certain professionals. However, some of this information remains poorly filled in, even though it is considered very important for optimal monitoring of the children (e.g. rupture of membranes >12 hours). On the other hand, the items concerning early screening of newborns are correctly filled in (in 95% of cases), which shows a real progress for the subsequent care of the children. Conclusion: Some improvements can still be made to allow a better filling rate of the health booklets in order to ensure a safe care of the children.
Depuis sa création en 1968, le carnet de santé a beaucoup évolué. Il joue plusieurs rôles importants dans le suivi au long cours de la santé des enfants. Depuis 2006, la qualité de remplissage des carnets de santé n'a pas été évaluée, alors qu'un nouveau modèlede carnet a été édité en 2018. L'objectif de notre étude était d'objectiver la fréquence de remplissage des carnets de santé avant la sortie des nouveau-nés de la maternité. Pour cela, nous avons réalisé une étude quantitative du remplissage des carnets de santé à la maternité du CHRU de Nancy. De plus, nous avions pour objectifs secondaires d'objectiver l'impact des parcours de soins de la mère et des nouveau-nés sur la fréquence de remplissage des carnets de santé. Nous constatons que le taux de remplissage global des carnets de santé se situait à 77.1% à la sortie des enfants de la maternité. Les informations relatives à la période prénatale était remplies dans 39.4% des cas,ceux de la période pernatale dans 80.05% des cas et ceux de la période postnatale dans93% des cas. Les informations relatives au déroulement de la grossesse restent peu renseignées peu importe le parcours de soins de suivi avec un taux de remplissage de 45%. Cependant,ces informations ne peuvent figurer dans les carnets de santé qu'avec l'accord de la mère. Certains items sont influencés par le parcours de soins suivi par la mère ou le nouveau-né.Les informations relatives à l'accouchement, à l'examen de l'enfant à la naissance et avant la sortie sont mieux renseignées dans les parcours de soins par accouchement voie basse. En effet, nous avons constaté une rupture de remplissage dans les parcours césarienne. Aucune sage-femme n'est présente au bloc opératoire pour assurer le remplissage des carnets de santé de manière synchrone. Les items concernant les risques infectieux ont été rajoutés depuis la dernière version du carnet de santé à la demande de certains professionnels. Cependant, certaines de ces informations restent peu renseignées alors qu'elles sont jugées très importantes pour une surveillance optimale des enfants (item rupture des membranes >12 heures par exemple). En revanche, les items concernant les dépistages précoces des nouveau-nés sont correctement renseignés (dans 95% des cas), ce qui montre un réel progrès pour la prise en charge ultérieure des enfants. CONCLUSION :Quelques améliorations peuvent encore être apportées pour permettre un meilleur taux de remplissage des carnets de santé afin d'assurer une prise en charge en toute sécuritédes enfants.
Fichier principal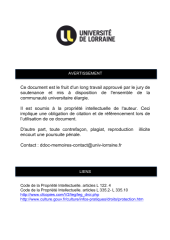 ESF_M_2021_PERIN_MARION.pdf (878.49 Ko)
Télécharger le fichier
Origin : Files produced by the author(s)