Sécurité du médicament à la Maternité du Centre Hospitalier Régional Universitaire de Nancy : audit qualité de la tenue des chariots de distribution des médicaments dans les services d'hospitalisation complète de périnatalité, du 03 mars au 12 août de l'année 2020
INTRODUCTION: Drug safety in hospital is essential, especially in perinatal sectors due to the fragility of pregnant and breastfeeding women and their fetuses and newborns. The main objective was to evaluate compliance with the lists of medications authorized to be in the medication carts. The secondary objectives were to assess the conformity of antiseptics, hydroalcoholic solutions and drugs in the storage phase and to observe if the use of the medication cart was safe. METHOD: A quality audit was carried out from March 3 to August 12, 2020 in the three perinatal services of the Maternity of Nancy University Hospital, using two collection grids. RESULTS: 80 additional specialties to the lists were found. 91,11% of antiseptics and hydroalcoholic solutions were open or considered open for more than one month. 1,98% of drugs were expired according to the manufacturer. The expiration date, the denomination, the drug dosage or the lot number were not or not fully visible in 4,59% of cases. The medication cart was unlocked and unattended in 32,5% of cases. Confidential information was visible to everyone in 12,5% on cases. 14,29% of pill boxes were unlabeled or mislabeled. DISCUSSION – CONCLUSION: The management of medication at the Maternity of Nancy University Hospital shows deviations from the expected good practices and none of our criteria were 100% compliant with a safe drug circuit. Actions will be implemented later to remedy this.
INTRODUCTION : La sécurité médicamenteuse à l'hôpital est essentielle, d'autant plus dans les secteurs périnataux du fait de la fragilité des femmes enceintes, allaitantes et de leurs foetus et nouveau-nés. L'objectif principal était d'évaluer le respect des listes de médicaments autorisés à se trouver dans les chariots de soins. Les objectifs secondaires étaient d'évaluer la conformité des antiseptiques, solutions hydroalcooliques et des médicaments en phase de stockage ainsi que d'observer si l'utilisation du chariot de distribution des médicaments s'avérait sécurisée. MATÉRIEL ET MÉTHODE : Un audit qualité a été mené du 03 mars au 12 août 2020 au sein des trois services périnataux de la Maternité du CHRU de Nancy grâce à deux grilles de recueil. RÉSULTATS : 80 spécialités supplémentaires aux listes furent retrouvées en différenciant dosage et forme galénique. 91,11% des ATS et SHA étaient ouverts ou considérés comme ouverts depuis plus d'un mois. 1,98% des médicaments avaient une DDP dépassée selon le fabriquant. La DDP, la dénomination, le dosage ou le numéro de lot n'étaient pas ou non entièrement visibles dans 4,59% des cas. Le chariot était non verrouillé et non surveillé dans 32,5% des cas. Une information confidentielle était visible au tout-venant dans 12,5% des cas. 14,29% des piluliers étaient non ou mal étiquetés. DISCUSSION – CONCLUSION : La gestion du médicament à la Maternité du CHRU de Nancy présente des écarts aux bonnes pratiques attendues et aucun de nos critères n'étaient conformes à 100% à un circuit médicamenteux sécurisé. Des actions seront mises en place ultérieurement afin d'y remédier.
Fichier principal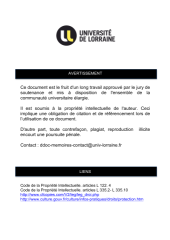 ESF_M_2021_SIMON_CAMYLLE.pdf (845.81 Ko)
Télécharger le fichier
Origin : Files produced by the author(s)