Développement et utilisations de nouvelles résines MélamineUrée- Formaldéhyde (MUF) pour le bois
Sviluppo e applicazioni di nuove resine melammina-urea-formaldeide (MUF) per del legno
This report concerns the research focused on the study of structural wood adhesives properties. The research was conducted on four levels namely: 1 Formulation, synthesis and characterization of new MUF wood adhesives. 2 Development of a new honeymoon MUF adhesive system for exterior grade glulam and finger-joints. 3 Experimentation of new chemical additives able to improve the bonding properties of commercial adhesives. Bonding of high moisture content wood. 4 Comparative performances of fast-setting single and separate application wood adhesives for structural glulam.
Cette recherche se situe dans le cadre d'une collaboration franco-italienne visant à développer les connaissances sur les adhésifs pour usages structurels. La recherche a été conduite en intégrant l'étude de nouveaux systèmes d'agents collants par le biais de la formulation, de la synthèse et de la caractérisation des résines MUF.Voici les quatre lignes de recherche abordées : 1. Formulation, synthèse et caractérisation de nouvelles résines aminoplastiques MUF à hautes performances et faible impact sur l'environnement. 2. Développement d'une nouvelle technique de collage bi-composant et durcissement rapide à température ambiante, permettant pour la première fois l'emploi de résines MUF pures. 3. Test de nouveaux additifs capables d'augmenter les performances et de diminuer le degré de toxicité des résines MUF de production industrielle. 4. Evaluation des performances des trois différentes techniques de collage utilisées pour l'assemblage du bois caractérisé par une haute humidité.
La presente ricerca si inserisce nell'ambito di una collaborazione italo-francese volta ad ampliare le conoscenze sugli adesivi per usi strutturali. La ricerca è stata condotta integrando la sperimentazione di nuovi sistemi collanti (migliorati o no attraverso l'uso di additivi) con la formulazione, la sintesi e la caratterizzazione di specifiche resine MUF prodotte in laboratorio.L'incollaggio deI legno è uno dei principali mezzi che la modema tecnologia mette a disposizione per valorizzare questa importante materia prima, ecologica e rinnovabile. La scelta del sistema adesivo e della specifica tecnologia d'incollaggio condiziona perà sempre pesantemente la qualità, il costa e l'impatto ambientale dei prodotti. Le crescenti esigenze del mercato indirizzano quindi l'attuale ricerca scientifico-tecnologica verso l'introduzione di collanti efficaci economici e compatibili con l'ambiente. In tale contesto si inserisce il presente lavoro i cui obbiettivi riguardano proprio la messa a punto di adesivi e sistemi d'incollaggio innovativi allo scopo di ottenere un migliore equilibrio tra qualità, ecocompatibilità e costa dei prodotti realizzati con l'incollaggio.
Fichier principal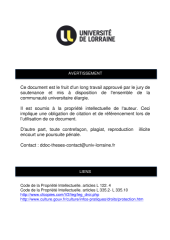 SCD_T_2002_0014_PROPERZI.pdf (6.65 Mo)
Télécharger le fichier
Origin : Files produced by the author(s)