Resistance to catecholamines, leptin and insulin in obesity.
Résistance à l'action des catécholamines, de la leptine et de l'insuline au cours de l'obésité : étude de la réactivité du système nerveux autonome "in vivo" et de la lipolyse "in vitro"
A decreased sympathetic nervous system (SNS) reactivity could be involved in the physiopathology of obesity. We used spectral analysis to measure the variability of heart rate and blood pressure in normotensive obese subjects. In standing position, baroreflexe sensitivity and SNS reactivity were altered and negatively correlated to insulin resistance indexes. After a glucose load, an impaired change in indices of sympathetic modulation was observed. Increased leptin to fat mass ratio was paradoxically associated with a decreased sympathetic cardiac modulation. This relationship persisted after weight loss. These abnormalities including impaired SNS reactivity, insulin resistance and an increased leptin concentration for a given fat mass, without hypertension could be described as a particular phenotype of obesity. Catecholamine resistance of adipocyte lipolysis could be related to cell membrane abnormalities. This hypothesis was tested in vitro by increasing the membrane sphingomyelin content of 3T3L1 adipocytes. At short term, a decrease in stimulated lipolysis was observed, that could be related to abnormal membrane signal transduction. The transcription of genes implicated in the regulation of cholesterol metabolism and lipogenesis was activated, but without change in the transcription of beta-adrenergic receptors.
Une diminution de la réponse du système nerveux sympathique (SNS) pourraient être impliquée dans la physiopathologie de l'obésité. Nous avons étudié la variabilité de la fréquence cardiaque et de la tension artérielle chez des sujets obèses normotendus. La réactivité du SNS en orthostatisme et la sensibilité du baroréflexe étaient altérées et corrélées de façon indépendante au degré d'insulinorésistance. Les variations de la réponse du SNS lors d'une charge en glucose, rapportée aux variations d'insulinémie, étaient plus faibles au cours de l'obésité. Une concentration élevée en leptine était paradoxalement associée à une diminution des indices du SNS. Cette relation persiste après amaigrissement. Ces études ont donc permis de décrire un phénotype d'obésité associant une diminution globale de la réactivité du système sympathique, une augmentation du rapport leptine sur masse grasse, une insulino-résistance et une absence d'hypertension artérielle. Ce phénotype est associé à une augmentation de la sphingomyéline membranaire de l'erythrocyte. Un modèle de résistance aux catécholamines de la lipolyse adipocytaire a été validé in vitro en enrichissant en sphingomyéline les membranes d'adipocytes 3T3L1 en culture. La diminution de lipolyse était en rapport avec une altération de l'étape membranaire de la transmission du signal. La transcription de nombreux gènes impliqués dans la régulation du métabolisme du cholestérol et de la lipogenèse a été activé, sans modification de l'expression des récepteurs bêta-adrénergiques.
Fichier principal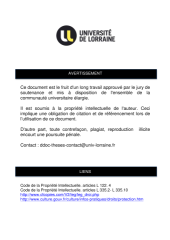 SCD_T_2002_0252_QUILLIOT.pdf (13.71 Mo)
Télécharger le fichier
Origin : Files produced by the author(s)