Dialogue moléculaire au cours de l'ontogénèse ectomycorhizienne : accumulation et activité anti-auxinique de l'hypaphorine, approches physiologique et génomique
Some steps of the ectomycorrhizae ontogenesis would require a subtle balance between active molecules such as IAA and regulating molecules such as hypaphorine, an indolic alkaloid synthesised and accumulated in large quantities by Pisolithus in contact with the host plant. Here the up-regulating activity of jasmonates on hypaphorine synthesis in Pisolithus hyphae was evidenced; a new class of IAA competitive-antagonists has been identified, the indole alkaloids. The activity of hypaphorine or/and IAA on gene expression in poplar roots, has been folowed. Amongst121 EST differentially expressed, only one coding for an extensinlike protein was regulated the opposite ways by both antagonist molecules. With hypaphorine, and some indole alkaloids, opens a new range of investigation of IAA activities.
Certaines étapes de l'ontogenèse ectomycorhizienne nécessiteraient un subtil équilibre entre des molécules actives telles que l'AIA et des molécules régulatrices telles que l'hypaphorine, un alcaloïde indolique synthétisé et accumulé en grande quantité dans les hyphes de Pisolithus au contact de la plante hôte. Ici, l'activité stimulatrice des jasmonates sur la synthèse d'hypaphorine a été mise en évidence ; une nouvelle classe d'antagonistes spécifiques et compétitifs de l'activité auxinique a été identifiée, les alcaloïdes indoliques. L'activité de l'hypaphorine et/ou de l'AIA sur l'expression de plus de 4000 gènes de peuplier a été suivie. Parmis les 121 transcrits différentiellement exprimés, un seul d'entre eux codant pour une Extensine-like-Protein est régulé de façon opposée par les deux molécules antagonistes. Avec l'hypaphorine et certains alcaloïdes indoliques, s'ouvre un champ nouveau d'étude des modes d'action des auxines.
Fichier principal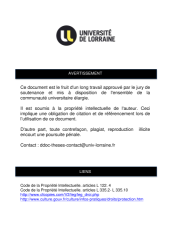 SCD_T_2004_0190_JAMBOIS.pdf (24.34 Mo)
Télécharger le fichier
Origin : Files produced by the author(s)