Equations d'évolution stochastiques dans les espaces de Banach : unicités abstraites, propriété de Markov forte, équations hyperboliques
This work consists of four chapters on some aspects of stochastic semilinear evolution equations (SPDE) in Banach spaces. The first chapter deals with different notions of uniqueness and existence (such as pathwise uniqueness, uniqueness in law, strong and weak existence) and the relations between them. We present an alternative construction of the stochastic integral in Banach spaces and we prove Burkholder's inequality, Fubini's theorem, the Chojnowska-Michalik theorem and Girsanov's theorem. We prove distribution preserving theorems for Bochner integrals, stochastic integrals and measurable selectors as well. The second chapter regards the Brownian representations of local cylindrical martingales in Banach spaces and the martingale problem in infinite dimensions. We use these results for illustrating the role of the notion "well-posedness" and for showing that weak existence and uniqueness in law for the equation in question imply the strong Markov property of the solutions. The third and the fourth chapter treats second order hyperbolic SPDE's driven by a spatially homogeneous Wiener process. We present sufficient conditions on the coefficients for the equation to have global strong and weak solutions, and we prove that the solutions propagate at finite speed.
Ce travail comporte quatre chapitres sur les équations d'évolution semilinéaires stochastiques (EDPS) dans des espaces de Banach. Le premier chapitre traite des diverses notions d'unicité et d'existence (telles que l'unicité trajectorielle, l'unicité en loi, l'existence forte et faible) et des relations entre elles. Nous construisons d'une manière différente l'intégrale stochastique dans des espaces de Banach, et nous démontrons l'inégalité de Burkholder, le théorème de Fubini, le théorème de Chojnowska-Michalik et le théorème de Girsanov. Nous démontrons aussi des théorèmes de conservation de loi pour des intégrales de Bochner, des intégrales stochastiques et des sélecteurs mesurables. Le deuxième chapitre traite des représentations browniennes de martingales locales cylindriques banachiques et du problème de martingale en dimension infinie. Nous utilisons ces résultats pour démontrer le rôle de la notion de " bien-posé " et le fait que l'existence faible et l'unicité en loi de l'équation en question entraînent la propriété de Markov forte des solutions. Le troisième et le quatrième chapitre concernent des EDPS hyperboliques de second ordre par rapport à un processus de Wiener spatialement homogène. Plus précisément, nous donnons des conditions suffisantes sur les coefficients entraînant l'existence globale des solutions fortes et faibles, et nous démontrons que les solutions se propagent à vitesse finie.
Fichier principal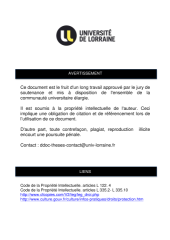 SCD_T_2003_0046_ONDREJAT.pdf (32.42 Mo)
Télécharger le fichier
Origin : Files produced by the author(s)