Simulations numériques de l'équation de Vlasov à l'aide d'outils parallèles
The problems related to a laser-matter interaction or turbulence in takomak plasmas encountered in magnetic fusion call for a study of not strongly linear/relativist Vlasov plasmas. It becomes necessary to use powerful tools for simulation on powerful computers in order to better include/understand the physical mechanisms put in play in these two domains. The development of nonparticular (or more exactly semi-Lagrangian) methods for the resolution of kinetic equations and, in particular, for the study of the wave-particle interactions remain a particularly promising way, taking into account the importance of results already obtained. This project aims to make even more powerful the resolution of Vlasov codes through the various parallelisation tools (MPI, OpenMP...). For our work, a simplified ``test case'' served for us as a base for constructing the parallel codes for obtaining a data-processing skeleton which, thereafter, could be re-used for increasingly complex models (more than four variables of phase space). What will thus make it possible to treat more realistic situations linked, for example, to the injection of ultra short and ultra intense impulses in inertial fusion plasmas, or the study of the instability of trapped ions now taken as being responsible for the generation of turbulence in tokamak plasmas.
Les problèmes liés à l'interaction laser-matière ou la turbulence dans les plasmas de tokamak rencontrée en fusion magnétique impliquent l'étude de plasmas de Vlasov fortement non linéaires et/ou relativistes. Le recours à des outils de simulation performants sur de puissants ordinateurs s'avère nécessaire pour mieux comprendre les mécanismes physiques mis en jeu dans ces deux domaines. Le développement de méthodes non particulaires (ou plus exactement semi-lagrangiennes) pour la résolution des équations cinétiques et en particulier pour l'étude des interactions ondes-particules reste une voie particulièrement prometteuse compte tenu de l'importance des résultats déjà obtenus. Ce projet a pour objectif de rendre encore plus performantes les résolutions de codes Vlasov grâce à ces divers outils de parallelisation (MPI, OpenMP...), Pour notre travail, un " cas test " simplifié nous a servi de base pour la construction des codes parallèles afin d'obtenir un squelette informatique qui, par la suite, pourra être réutilisé pour des modèles de plus en plus complexes (à plus de quatre variables d'espace des phases). Ce qui permettra de traiter ainsi des situations plus réalistes liées par exemple à l'injection d'impulsions ultra courtes et ultra intenses dans un plasma en fusion inertielle ou encore à l'étude de l'instabilité d'ions piégés, mécanisme maintenant admis comme étant responsable de la génération de la turbulence dans les plasmas de tokamak.
Fichier principal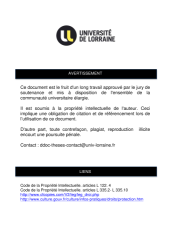 SCD_T_2005_0114_PEYROUX.pdf (10.09 Mo)
Télécharger le fichier
Origin : Files produced by the author(s)