Stratégies d'aide en ligne contextuelles : acquisition d'expertises, modélisation et évaluation expérimentale
Current online help systems usually are unsuitable to the user's actual needs, and fail to help efficiently. Recent research focused on solving issues concerning the design of dynamic help systems. Although, few research has focused on the appraisal of the use of such help systems and their influence on the end user's information assimilation. Therefore, we performed an experimental study, based on a bottom-up approach, in order to study contextual dynamic help systems. First of all, we analysed a corpus of help dialogs involving human experts and novice users, in order to elicit the help strategies used by the experts. The implementation of the identified strategies in an experimental online help system allowed us to evaluate them during an experimentation based on the Wizard of Oz protocol. That study led us to propose a set of recommendations for the realization of contextual online help systems.
Les réalisations matérielles en matière d'aide en ligne sont souvent inadaptées aux besoins réels des utlisateurs et échouent à leur apporter une aide efficace. Les recherches récentes se sont centrées sur la résolution des difficultés techniques posées par la mise en oeuvre de systèmes d'aide dynamiques. Cependant, peu d'études se sont intéressées à l'évaluation de l'usage de telles aides et à leur influence sur l'appropriation des informations par l'utilisateur final. Nous proposons une recherche expérimentale basée sur une approche ascendante visant à étudier les stratégies d'aide contextuelles dynamiques. Dans un premier temps nous avons réalisé l'analyse d'un corpus de dialogues d'aide mettant en scène un expert humain et un sujet novice afin d'en extraire les principales stratégies d'aide mises en oeuvre. L'implémentation des stratégies identifiées dans un système expérimental d'aide a permis de réaliser leur évaluation au cours d'une expérimentation reposant sur le "protocole du Magicien d'Oz". Cette étude nous a conduit à proposer un ensemble de recommandations pour la réalisation de systèmes d'aide en ligne contextuels.
Fichier principal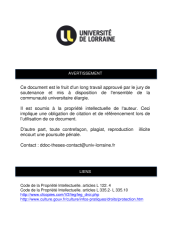 SCD_T_2002_0286_CAPOBIANCO.pdf (11.38 Mo)
Télécharger le fichier
Origin : Files produced by the author(s)