Surveillance et contrôle de la rougeole : caractérisation du virus et de l'immunité humorale
Molecular epidemiology of measles virus as weil as the evaluation of humoral immunity have proven to facilitate measles surveillance and control. We studied the evolution of humoral immunity against measles after vaccination and after convalescence in longitudinal studies. Accelerated antibody decay rates were found among vaccinees with high antibody levels at the beginning of the study period, whereas low antibody levels were relatively stable. Re-exposure to wild-type virus induced a longlasting stabilization of antibody levels in convalescents. Since the proportion of vaccinated individuals is continously increasing and wild-type virus circulation is low, regular studies of humoral immunity will be crucial to assess the level of protection of in the corresponding populations. Antibody detection in oral f1uid has been promoted as an alternative to serum in the past. Our evaluation of a commercialised ELISA however shows a reduced sensitivity of detection compared to serum when antibody levels were low. ln order to facilitate measles virus genotyping on a large number of sam pies and in absence of sequencing facilities we have developed a simplified genotyping method to distinguish between actif measles virus clades and genotypes. This method is based on 6 different multiplex PCRs, which give PCR products of characteristic sizes for each clade or genotype. The method was developed using virus isolates of the different genotypes and evaluated and further optimized using clinical samples collected from measles patients.
L'épidémiologie moléculaire du virus de la rougeole ainsi que les études d'immunité humorale se sont avérées être des outils majeurs pour faciliter la surveillance et le contrôle de la rougeole. Nous avons suivi l'évolution de l'immunité humorale après vaccination et après convalescence dans des études longitudinales. Chez les personnes vaccinées nous avons observé une perte d'anticorps accélérée lorsque les taux de départ étaient relativement élevés, alors que les taux relativement bas restaient plus stables. L'analyse des taux d'anticorps chez des convalescents réexposés à une souche sauvage du virus a montré que la réexposition peut induire une stabilisation prolongée des taux d'anticorps. La détection d'anticorps dans du fluide buccal est considéré comme alternative au sérum. Notre évaluation d'une méthode ELISA commercialisée à ces fins a cependant montré que la sensibilité de détection était insuffisante lorsque les taux d'anticorps dans le sérum étaient bas. Afin de faciliter le génotypage du virus sur un grand nombre d'échantillons et de palier à l'absence de facilités de séquençage, nous avons développé une méthode simplifiée pour faire la distinction entre les clades et génotypes du virus de la rougeole actifs. Cette méthode est basée sur 6 PCR multiplex différentes qui produisent des fragments PCR de longueur spécifique pour chaque clade ou génotype. La méthode a été développée en utilisant des isolats viraux appartenant aux différents génotypes et évaluée sur des échantillons cliniques prélevés auprès de patients atteints de la rougeole.
Fichier principal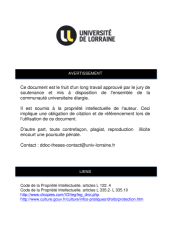 SCD_T_2006_0241_KREMER.pdf (9.6 Mo)
Télécharger le fichier
Origin : Files produced by the author(s)