The Knowledge Generation : an occulted aspect of project management ? : the case of a hospital
La génération des connaissances : un aspect méconnu du management de projet : le cas d'un établissement de santé.
Hospital Information System (HIS) is a priority of 2012 Hospital Plan ("Plan Hôpital 2012"). It should be oriented to the informatization of healthcare and hospital processes. Information sharing, including inter-enterprise and cross- enterprise one, is on the stake. At the Lorraine Cancer Center, an Electronic Patient Record is implementing. An action research was conducted on this project. We had studied the role of knowledge generation within project management. The change of an information system has a dual nature. It concerns not only a technology change, but also an organizational one. In consequence, an information system project requires the constitution of a cross-functional team. There are two existing approaches of project management. The sequential one emphasises the planning and the control techniques. The improvisational one emphasises the flexibility. In the two above approaches, stakeholders are not explicitly involved. Our research revealed that knowledge generation leads to a new management approach. This one takes into account the interaction among actors in order to make sense of the project. We had conducted an intervention which is inspired by the actor-network theory. Visual artefacts have been used to show that knowledge is created in action. The knowledge generation, as a part of the knowing process, is a key element of change management. Thus it is necessary to consider the multidimensional nature of the change. Project management should be shaped into a practice-based view. We had proposed a method of organization for reflexive inquiry that involves artefact mediation. Project management has been explicitly considered as an element of organizational learning.
Le système d'information hospitalier est une des priorités du Plan Hôpital 2012. Sa mise en oeuvre doit être orientée vers l'informatisation des processus de soins. Il privilégie les échanges d'informations tant internes qu'externes aux établissements. Au Centre de Lutte Contre le Cancer de Lorraine, la mise en oeuvre du Dossier Patient Informatisé et du Dossier Médical Personnel est en cours. Nous avons développé une recherche-action sur ce projet afin d'étudier le rôle de la génération des connaissances dans le management de projet. Le changement d'un système d'information est de nature profondément duale. C'est un changement de technologie associé à un changement organisationnel. Sa mise en oeuvre nécessite la constitution d'équipes projets dédiées ayant des compétences pluridisciplinaires. Il est possible de distinguer deux approches de management de projet. L'approche classique est centrée sur la planification et le contrôle. L'approche par l'improvisation organisationnelle est centrée sur la flexibilité. Dans ces deux approches, les parties prenantes et en particulier ici les utilisateurs du système d'information ne sont pas suffisamment impliqués dans le processus de changement. La génération des connaissances permet d'envisager une nouvelle démarche managériale. Elle permet de rendre compte des interactions entre les acteurs et des processus de construction de sens. En particulier, nous avons réalisé une intervention inspirée par la théorie de la traduction. L'utilisation des artefacts visuels montre que les connaissances sont générées dans l'action. La génération des connaissances est un élément essentiel de la conduite du changement. Au total, il est nécessaire de prendre en compte la nature multidimensionnelle du changement et d'inscrire le management de projet dans une épistémologie de la pratique. Nous avons présenté une méthode d'organisation du retour réflexif centrée sur la médiatisation. Le management de projet est explicitement considéré comme un élément de l'apprentissage organisationnel.
Fichier principal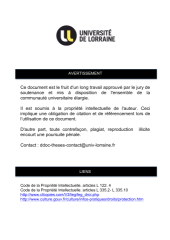 2011NAN22002.pdf (5.03 Mo)
Télécharger le fichier
Origin : Files produced by the author(s)