Sylvigenèse de la hêtraie-sapinière dans le contexte vosgien
Forest dynamics were analyzed in the Upper Vosges mountains of north-eastern France in two reserve areas, Frankenthal-Missheimle (FM) and Grand Ventron (GV), located in the Ballons des Vosges Natural Regional Park (Parc Naturel Régional des Ballons des Vosges). The main aim of the study was to interpret how the different species populations in mixed-beech woodlands in the Vosges grow and interact over the long term, and to determine the disturbance history. The study combined vegetation description, dendrological and structural data, architectural descriptions, soil analysis, dendrochronolgy and seed bank studies. Historical information was also taken into consideration. Observations were correlated to the sylvigenetic processes of a primary forest of the Carpates. It appeared the forest mosaics of these communities were very stable in regards of the harsh environmental conditions near the timberline. Forests presented an architecture highly influenced by slope orientation. Furthermore, seed bank study and dendrological approach. The seed bank and dendrochronological study displayed information of human perturbations: forest canopy often opened in the beginning of the 19th century has highly influenced forest architecture and seed bank composition. However, the mixed beech-fir species were slowly integrated in the seed-bank, to the detriment of lightdemanding species, belonging to past forest perturbations. That substitution attempted that forest evolved to a more naturalness forest. Consequently, these forests can be regarded as reference study area, in order of naturalness and development of beech-fir forest which were growing near the timberland.
Tout comme la plupart des forêts d'Europe centrale, la forêt vosgienne a subi de multiples fragmentations et a été fortement influencée par la gestion forestière. Cependant, ce massif recèle encore de forêts relativement bien préservées sur le versant alsacien, dans des zones peu accessibles. Ces forêts sont aujourd'hui classées en réserves intégrales. Les arbres qui les composent sont âgés et présentent de gros diamètres. Le bois mort sur pied et au sol atteste de leur bonne préservation et de leur naturalité. Le fonctionnement de ces forêts à caractère naturel a été abordé selon différents niveaux d'approches afin de définir si elles peuvent être considérées comme sites de référence pour les forêts vosgiennes gérées. L'étude de la dynamique de forêts de deux sites d'études a permis de décrire la mosaîque forestière de ces communautés et d'en déduire leur fonctionnalité. Ces forêts sont stables au regard des conditions environnementales de la crête et présentent une architecture stratifiée fortement liée à leur croissance sur forte pente. Cette architecture est influencée par la proximité des crêtes. L'étude de la banque de graines et l'étude dendrologique ont permis de visualiser de façon spatiale et temporelle les différentes interventions anthropiques. De nombreuses trouées ponctuelles au début du 19ème siècle ont ainsi modifié l'architecture et la composition spécifique de banque de graines. Les espèces inféodées aux hêtraies-sapinières se réintègrent cependant de façon très lente dans la banque de graines au détriment des espèces héliophiles, issues des trouées passées. Cette transformation atteste d'une évolution de ces forêts vers une naturalité plus importante. Ces forêts ne présentent cependant pas encore le niveau d'intégrité écologique des forêts primaires d'Europe de l'Est avec lesquelles elles ont été comparées (Slatioara dans les Carpates) où l'architecture de la communauté forestière est infiniment plus complexe. Ces zones d'études peuvent cependant être considérées comme sites de référence en terme de fonctionnalité et de stabilité, pour les hêtraies-sapinières vosgiennes en situation de pente et proches de la crête.
Fichier principal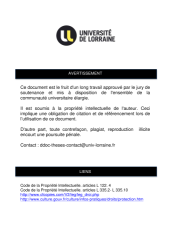 Closset_Kopp.Deborah.SMZ0424.pdf (8.86 Mo)
Télécharger le fichier
Origin : Files produced by the author(s)