From precautionary principle to the philosophy of precaution
Du principe de précaution à la Philosophie de la précaution :
The precautionary principle is much criticised ; it is mainly viewed as leading to abstention. I show that, on the contrary, it leads to action. To this end, I have focused on action and shown that "true action" is open to reflection and deliberation ; it requires, as Aristotle has shown so aptly, prudence. But the environnment of action has undergone considerable change since the days of Aristotle : this world of ours is an uncertain, complex and fragil one. What are we to do then ? I show that we must implement "new prudence", i.e. precaution. The precautionary principle is the first step on the way of this "mutation", and what we need is thorough "conversion" from the "ideology of progress" to a "philosophy of precaution". The second part of my dissertation aims at defining this philosophy which involves : a way of thinking ("broadened" rationality), a relationship to nature (based on association rather than conquest), an ethics, and, at last, a new conception of action.
Le principe de précaution est très contesté ; il est vu comme un principe d'abstention. Je cherche à montrer que, tout au contraire, c'est un principe d'action. Je montre que l'"action véritable" est ouverte à la réflexion et à la délibération ; elle demande, comme Aristote l'a si bien montré, la prudence. Mais les "cadres de l'agir" ont bien changé depuis Aristote : nous avons à vivre dans un monde incertain, fragile et complexe. Comment faire ? Je montre que nous devons introduire une "nouvelle prudence" : la précaution. Le principe de précaution constitue une première étape de cette véritable "mutation" ; mais c'est d'une "conversion" bien plus large dont nous avons besoin ! Nous devons adopter, en lieu et place de l'"idéologie du progrès", une "philosophie de la précaution". La deuxième partie de ma thèse consiste à définir cette philosophie, qui demande de renouveler notre rationalité, notre rapport à la nature, notre éthique, notre conception de l'action enfin.
Fichier principal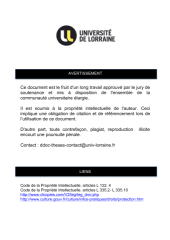 2006NAN21015.pdf (5.75 Mo)
Télécharger le fichier
Origin : Files produced by the author(s)