Ontology, cognitive science and personal identity
Ontologie, sciences cognitives et identité personnelle :
The purpose of this work is to proceed at the examination of some problems related to the nebulous but so fundamental notion of personal identity. At first, we confronted both antireductionist and reductionist views upon self identity. Then, we focalise on non eliminative reductionism. We explore respective worth of psychological and corporeal criterions. Finally, we discuss internalist and externalist conceptions of mind, and drawn out some consequences about the questions of self identity and consciousness unity. Our discussion takes end with the review and the analysis of some critics, opposed to the use of thought experiments in the scope of reflections about the self. We conclude in defining some criterions of self identity which integer, through a temporal and spatial continuity, the somatic then psychological dimension of the individual.
Ce travail se propose de décortiquer quelques-uns des problèmes attenants à la notion nébuleuse et pourtant si fondamentale d'identité personnelle. Nous confrontons d'abord les perspectives antiréductionnistes et réductionnistes de l'identité personnelle. Puis, nous focalisant sur le réductionnisme non-éliminativiste, nous explorons les mérites respectifs des critères psychologiques et corporels. Enfin, nous discutons des conceptions internalistes et externalistes de l'esprit, et en dégageons les conséquences concernant les questions de l'identité personnelle et de l'unité de la conscience. Notre discussion s'achève par une présentation et analyse des critiques opposées à l'usage des expériences de pensée dans le cadre des réflexions sur le moi. Nous concluons sur la définition de critères de l'identité personnelle qui intègrent, dans une continuité temporelle et spatiale, les dimensions somatiques, puis psychologiques, de l'individu.
Fichier principal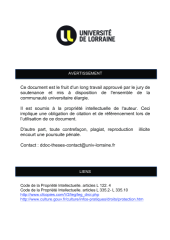 2006NAN21012.pdf (4.25 Mo)
Télécharger le fichier
Origin : Files produced by the author(s)