Étude des propriétés optiques de nanoparticules de semiconducteurs : application de l'ellipsométrie aux silicium et germanium nanostructurés
Silicon and germanium are the two semiconductors the most studied by the scientific world due to their interesting fundamental physical properties and their potential applications in nanotechnology. Indeed, the intense photoluminescence in the visible range observed on silicon and germanium of nanometric size open prospects for applications in advanced optoelectronic devices. In nano-electronic field, the capacity to store and restore charges is very promising in thin layers containing nanocrystals. However, physical mechanisms responsible of these new properties remain still under investigations. In this work, we report the study of the optical properties of silicon nc-Si and germanium nc-Ge nanocrystals embedded in silica matrix by a non-destructive optical technique Spectroscopic ellipsometry. The samples under investigations elaborated at the Institute of Electronics of the Solid and Systems (InESS), are obtained by ionic implantation and subsequent annealing. The aim of our study is to understand the optical behavior of nc-Si and nc-Ge through the determination of their complex dielectric functions in the UV-Visible range, the highest optical transitions (Van Hove Singularities) in the entire Brillouin zone and the optical band gap. We also studied the influence of the elaboration conditions and in particular the implantation temperature on the structural and optical properties of the nanocrystals. Physical models adapted to each sample were developed in order to extract the optical answer from these nanomaterials. The results are discussed in the framework of the theoretical models based on quantum confinement.
Le silicium et le germanium sont les deux matériaux semiconducteurs les plus étudiés par le monde scientifique. L'intérêt pour ces matériaux provient de leurs propriétés optiques et électroniques et de leur potentiel d'application en nanotechnologie. En effet, l'intense photoluminescence dans le visible observée sur des nanocristaux de silicium et de germanium ouvre des perspectives d'application en optoélectronique mais également en nanoélectrique où leur capacités à stocker et restituer des charges est très prometteuse. Cependant, les mécanismes physiques responsables de ces nouvelles propriétés optiques et électroniques sont en cours de développement. Dans ce contexte, ce travail de thèse s'inscrit dans le cadre de l'étude des propriétés optiques des nanocristaux de silicium nc-Si et de germanium nc-Ge par une technique optique non destructive, l'ellipsométrie spectroscopique. Ces nanocristaux, élaborés à l'Institut d Electronique du Solide et des Systèmes (InESS) à Strasbourg, sont obtenus par implantation ionique et un recuit à haute température. L'objectif de notre étude est de comprendre leur comportement optique à travers la détermination de leur fonction diélectrique complexe dans une large gamme spectrale UV-Visible, les transitions optiques à hautes énergies (Singularités de Van Hove) dans toute la zone de Brillouin ainsi que leur énergie de gap. Nous avons étudié également l'influence des conditions d'élaboration et en particulier la température d'implantation sur les propriétés optiques et structurales des nanocristaux. Des modèles physiques adaptés à chaque échantillon ont été mis au point afin d'extraire la réponse optique de ces nanomatériaux. Les résultats obtenus sont discutés dans le cadre des modèles théoriques basés sur le confinement quantique présentés dans la littérature.
Fichier principal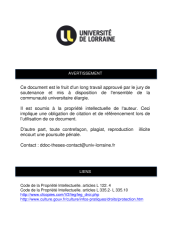 Mansour.M.SMZ0612.pdf (3.44 Mo)
Télécharger le fichier
Origin : Files produced by the author(s)