Development of new tools and concepts for modeling and optimization of anionic synthesis of nanostructured polyamide based materials by reactive extrusion
Mise au point de nouveaux outils et de concepts de modélisation et d'optimisation pour l'élaboration anionique par extrusion réactive de matériaux macromoléculaires multiphasés et nanostructurés à base de polyamides :
Ces travaux de recherche ont pour but l'élaboration des mélanges de polyamide 12 (PA12) et de polydiméthylsiloxane (PDMS), selon une démarche originale reposant sur la synthèse simultanée, par voie anionique, du polyamide et d'un compatibilisant, durant l'élaboration du mélange par extrusion réactive. Cela conduit à la structuration du matériau sous la forme d'une phase continue (PA12) au sein de laquelle l'élastomère, qui est stabilisé par le compatibilisant, est finement dispersé. Le mécanisme de formation de la morphologie est alors complètement différent de celui mis en ?uvre dans les autres procédés. Les deux phases étant alors liées de manière très intime, il en résulte une amélioration remarquable des propriétés mécaniques des matériaux, en particulier leur tenue au choc. A cette fin, un modèle cinétique des deux polymérisations a été élaboré. Par ailleurs, la synthèse complète d'un nouveau macroactivateur a été réalisée pour former in situ le compatibilisant. Avant la mise en oeuvre du procédé d'extrusion réactive, des études préalables ont été nécessaires afin d'étudier l'influence des conditions opératoires et la composition du milieu sur les propriétés finales des matériaux. Pour conduire de façon optimale le procédé, des nouveaux outils et concepts scientifiques ont été élaborés. Ces outils, issus d'une expérimentation importante, sont des modèles prédictifs et des algorithmes d'optimisation multicritère qui se sont avérés très utiles pour la fabrication de ces matériaux et pour la conduite des procédés correspondants.
The aim of this study is the elaboration of polyamide 12 (PA12) and polydimethylsiloxane (PDMS) blends. The original concept is based on the simultaneous synthesis of polyamide and the compatibilizer by anionic polymerization during the reactive extrusion. It leads to a material composed of a continuous PA 12 phase in which the elastomer stabilized by the compatibilizer is finely dispersed. The formation mechanism of morphology is then completely different from that classically observed. The in situ reactively compatibilized polymer blends improve the mechanical properties of these materials, particularly their impact behaviour. For this purpose, a kinetic model of the two polymerizations was developed. In addition, the complete synthesis of a new macroactivator was carried out to form the compatibilizer in situ. Before the implementation of the reactive extrusion process, preliminary studies were necessary in order to study the influence of the operating conditions and the composition of the blend on the final material properties. New tools and scientific concepts were developed to obtain an optimized extrusion process. These tools, resulting from an appropriate experimentation strategy, are predictive models and algorithms of multicriteria optimization which proved to be very useful for the elaboration of these materials and the control of the corresponding processes.
Fichier principal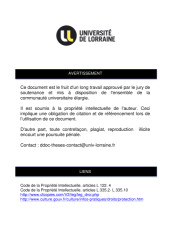 2005_RACHED_R.pdf (7.32 Mo)
Télécharger le fichier
Origin : Files produced by the author(s)