Synthesis by reactive sputtering and characterisation of solid electrolyte coatings for Solid Oxide fuel Cells (SOFC) operating at intermediate temperature
Synthèse par pulvérisation cathodique et caractérisation d'électrolytes solides en couches minces pour piles à combustible à oxydes solides (SOFC) fonctionnant à température intermédiaire :
The major problem of Solid Oxide Fuel Cells (SOFC) is their operating temperature. One challenge is to decrease this temperature from 1000 to 700ÊC, this is the Intermediate Temperature SOFC technology. It's very important to decrease the thickness of the ionic conductor to reduce its resistance. In this context, the reactive magnetron sputtering is a powerful technique for elaborating the coating with a compatible thickness with the application (~ 5-10 m). After a description of the experimental device and of some specific analysis methods for this study, we present some results about the materials reference of the SOFC, the Yttria Stabilised Zirconia (YSZ). Then, we present some results about two new materials with higher ionic conductivity of oxygen than YSZ at 700ÊC: Gadolinia Doped Ceria (GDC) and Lanthanum Molydenum Oxide (LAMOX). At last, we present first results on the synthesis of the bilayer electrolyte coating: GDC/YSZ.
En vue de diminuer la température de fonctionnement de 1000 à 700°C des piles à combustible à oxydes solides (SOFC), il est nécessaire de réduire l'épaisseur du conducteur ionique pour limiter sa résistance. Dans ce contexte, la pulvérisation cathodique magnétron en condition réactive autorise la synthèse de revêtements dont l'épaisseur est compatible avec celle requise (~ 5-10 m). Après une description du dispositif expérimental et des techniques de caractérisation mise en ?uvres pour l'étude, nous présenterons les résultats concernant le matériau de référence des SOFC, la zircone stabilisée à l'yttrium (YSZ). Puis, nous exposerons les mesures sur deux candidats potentiels à son remplacement : la cérine gadoliniée (GDC) et le molybdate de lanthane (LAMOX). L'ensemble des mesures pour chaque composé est en accord avec la littérature. Enfin, une étude préliminaire est menée sur la synthèse d'un électrolyte bicouche de GDC/YSZ.
Fichier principal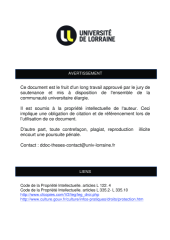 2005_BRIOIS_P.pdf (5.34 Mo)
Télécharger le fichier
Origin : Files produced by the author(s)