Taking over real estate for a public purpose from 1833 to 1935 : legislation, doctrine and case-law with examples from the Departemental Archives of Moselle and Meurthe-et-Moselle
L'expropriation pour cause d'utilité publique de 1833 à 1935 (législation, doctrine et jurisprudence avec des exemples tirés des archives de la Moselle et de la Meurthe-et-Moselle).
The practice of expropriations in the departements of Moselle and Meurthe-et-Moselle proves that only State, departements and communes exercise public authorities prerogatives in order to oblige landowners to transfer their property for the execution of public work. However, works relating to railways let appear two persons exercising prerogative of public authorities, namely, State and Eastern railways company. By contract for public works the last one got the right to expropriate plots of land situated on the section between Frouard and Metz to Sarrebrück. The purchases are subjected to the accomplishment of some formalities prescribed by the law of the 3rd may 1841. The formalities changing administration (general government) to mandator (authorized agent) of statutory company are subjected to the minimalist control of the judiciary judge in order to confirm the regularity of the procedure, which is a sine qua non condition for all taking over of real estate for a public purpose. The acquisitions are subordinated to the prepayment of indemnities for expropriation payable to landowners expropriated. In case of lack of amicable arrangement, the indemnities for expropriation are assessed by a valuation board in expropriation proceedings composed by landowners, which is judged by the authors as more protector of private interest than publics finance. Our researchs reveal in return that indemnities fixed by the jurors in Lorraine are reasonable, but they are high in some case. The indemnities are sometimes fixed several months after the expropriation order or the amicable arrangement, which generate several complaints from landowners.
La pratique des expropriations dans les départements de la Moselle et de la Meurthe-et-Moselle confirme que seuls l?État, les départements et les communes usent des prérogatives de puissance publique en vue de contraindre les propriétaires à céder les biens qui leur appartiennent pour l?exécution d?un travail public. Les travaux relatifs aux voies ferrées font cependant apparaître deux grands expropriants à savoir l?État et la compagnie des chemins de fer de l?Est. Cette dernière obtenait par la concession le droit d?exproprier des terrains situés sur le tronçon de Frouard à Metz en direction de Sarrebrück. Les acquisitions de terrains sont assujetties à l?accomplissement de certaines formalités établies par la loi du 3 mai 1841. Les formalités qui transforment parfois l?administration en mandataire de la compagnie concessionnaire demeurent soumises au contrôle minimaliste du juge judiciaire afin de confirmer ou d?infirmer la régularité de la procédure, condition sine qua non de toute expropriation. Les acquisitions de terrains sont également subordonnées au paiement préalable des indemnités dues aux propriétaires expropriés. Les indemnités sont fixées, à défaut de convention amiable, par un jury des propriétaires critiqué par les auteurs comme plus protecteur des intérêts particuliers que des deniers publics. Nos recherches révèlent en revanche que les indemnités fixées par les jurés lorrains sont raisonnables, mais élevées dans certains cas. Ces indemnités sont fixées parfois plusieurs mois après après le jugement d?expropriation ou l?accord amiable entraînant diverses réclamations des propriétaires lorrains.
Fichier principal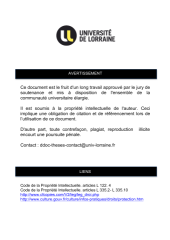 2010NAN20017.pdf (13.61 Mo)
Télécharger le fichier
Origin : Files produced by the author(s)