Développement d'une méthode théorique pour l'étude de la réactivité chimique des systèmes moléculaires complexes en solution
The main goal of this work has been to develop tools allowing to take into account simultaneously the influences of the solvent and of the molecular environment surrounding the chemical centre. The coupling of the hybrid LSCF/MM method with the SCRF model of solvent is studied. This three-layers approach is used to study the reaction between cyclopentadiene an (-)-menthyle acrylate in order to determine the common effects of both the solvent and the chemical environment. The introduction of explicit molecules of water in the vicinity of the reactive centre is also investigated in order to model the specific solut/solvent interactions such as hydrogen bonds. A set of specific parameters for water is determined to describe the interaction between quantum solutes and classical water. This approach is used to study the solvent effects in the Claisen reaction. An approach to perform a block calculation of te hessian matrix within the LSCF/MM scheme is also presented.
L'objectif principal de ce travail est le développement d'outils permettant la prise en compte simultanée de l'influence du solvant et de l'environnement moléculaire dans l'étude de la réactivité chimique. Le couplage de la méthode hybride LSCF/MM et du modèle de solvant SCRF est envisagé. Cette méthode à trois niveaux est utilisée dans l'étude de la réaction de l'acrylate de (-)-menthyle avec le cyclopentadiène pour étudier les effets couplés du solvant et du groupement chiral. L'introduction de molécules explicites d'eau a proximité du centre reactif est aussi envisagée afin de modéliser les interactions spécifiques (liaisons hydrogène). Un jeu de paramètres spécifiques pour l'eau est déterminé pour rendre compte de l'interaction entre eau classique et soluté quantique. Cette approche est utilisée dans l'étude des effets du solvant sur le réarrangement de Claisen. Une méthode de calcul du hessien par blocs pour l'approche LSCF/MM est aussi décrite.
Fichier principal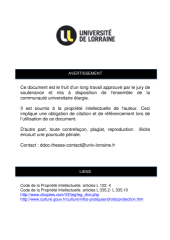 SCD_T_2005_0117_MOREAU.pdf (998.06 Ko)
Télécharger le fichier
Origin : Files produced by the author(s)