Signalisation intracellulaire dans la régulation des fonctions bactéricides chez les polynucléaires neutrophiles de souris
Since the creation of the transgenic mice, the study of the innate immunity of this animal has received renewed interest. To exploit this experimental model as well as possible, it was initially necessary to know its normal function in order to compare to our current knowledge of the human immune system. The aim is to apprehend and define the limits of the murine model. We isolated neutrophils from mouse blood and bone marrow and compared their bactericidal functions. We have shown that mouse bone marrow contains a large population of neutrophils which are morphologically and functionally as mature as blood neutrophils. In addition, the discovery of new molecules aiming at stimulating the microbicidal activity of neutrophils as well as the study of intracellular signalling pathways leading to either the activation of these cells, their survival or their accelerated death, allowed us to better understand their regulation.
Depuis la création des souris transgéniques, l'étude de l'immunité innée de cet animal a connu un regain d'intérêt. Pour exploiter au mieux ce modèle expérimental, il fallait d'abord connaître son fonctionnement normal afin de comparer les connaissances ainsi acquises chez la souris aux données connues chez l'Homme. Ceci dans le but d'appréhender et de définir les limites du modèle murin. Nous avons isolé des neutrophiles du sang et de la moelle osseuse de souris et comparé leurs fonctions bactéricides. Nous avons montré que la moelle osseuse des souris contient une grande population de neutrophiles morphologiquement et fonctionnellement aussi matures que ceux issus du sang. D'autre part, la découverte de nouvelles molécules visant à stimuler l'activité microbicide des neutrophiles ainsi que l'étude des voies de signalisation intracellulaire aboutissant soit à l'activation de ces cellules, à leur survie ou à leur mort accélérée, nous ont permis de mieux comprendre leur fonctionnement.
Fichier principal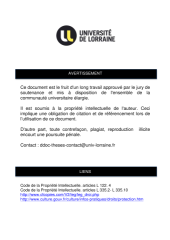 SCD_T_2005_0006_BOXIO.pdf (54.42 Mo)
Télécharger le fichier
Origin : Files produced by the author(s)