Influence des déterminants nutritionnels de l'homocystéine sur la stéatose hépatique chez le rongeur
Homocysteine (Hcy) is a sulphur-containing amino acid that plays a central role in cellular methylation processes. hyperhomocysteinernia (HHcy) has been linked to various abnormalities occurring in liver, heart and brain. The relevant pathologies can range from hepatic steatosis to cardiovascular disease, neural tube defect and Alzheimer disease. Although the mechanisms for these are not clear, the perturbation of the SAM dependant transméthylation and the elevation of the oxidant stress could be involved in the pathogenesis of these diseases. The aim of this work was to deterrnine the factors leading from moderate or severe HHcy, to hepatic steatosis, a condition characterized by triglycerides accumulation that can lead to fibrosis and cirrhosis. ln addition, we have studied the changes of hepatic redox status as a consequence of HHcy. ln our study, we used 21 days-old young rats born to mothers that had undergone a feeding of methyl-donor deficient diet (in folate, vitamin B12 and choline) prior to the pregnancy. The maternal deficiency in methyl donor, induced in these pups moderate HHcy. Additionally, hepatic steatosis appeared in these pups. HHcy induced the drop of the SAM/SAH ratio and 100 to a decrease in camitine synthesis, causing the hepatic steatosis. We found that Hcy accumulation also 100 to an increase of the oxidant stress. ln transgenic mice cbs -/-, there is SAH accumulation, potent inhibitor of methyltransferases, that disturbs Hcy remethylation cycle. So, we have established a relationship between Hcy remethylation, camitine synthesis and hepatic steatosis using the moderate HHcy nutritional model through using the methyl deficient diet.
L'homocystéine (Hcy) est un acide aminé porteur de groupement thiol réducteur qui joue un rôle central dans les processus de méthylation cellulaire. L'hyperhomocystéinémie (HHcy) est associée à diverses anomalies au niveau du coeur, du cerveau ou du foie. Les maladies qui en résultent vont de la stéatose hépatique aux maladies cardiovasculaires, défauts de fermeture du tube neural ou encore à la maladie d'Alzheimer. Des perturbations des activités de transméthylations, SAM dépendantes, et/ou une augmentation du stress oxydant, sont impliquées dans la pathogenèse de ces maladies. L'objectif de ce travail est de déterminer les facteurs conduisant d'une HHcy, sévère ou modérée, à l'apparition de stéatose hépatique. La stéatose est caractérisée par une accumulation de triglycérides dans les hépatocytes qui, à terme, peut conduire à une fibrose, voire une cirrhose. Dans un deuxième temps, nous avons évalué le statut redox hépatique, généralement associé à la stéatose. La carence maternelle (folates, vitamine B12 et choline) induit chez le raton âgé de 21 jours une HHcy modérée, en même temps qu'apparaît une stéatose hépatique. L'HHcy est dûe à une baisse du ratio SAM/SAH. Cela provoque une chute de la synthèse de camitine et aboutit à une stéatose hépatique. L'HHcy induit une augmentation des marqueurs du stress oxydant. Chez les souris transgéniques cbs -/-, il y a une accumulation de SAH, inhibiteur des méthyltransférases, qui perturbe le cycle de reméthylation de l'Hcy. Notre modèle nutritionnel d'HHcy modérée, dûe à un methyldeficient, a permis d'établir une relation entre reméthylation de l'Hcy, synthèse hépatique de la camitine et stéatose hépatique.
Fichier principal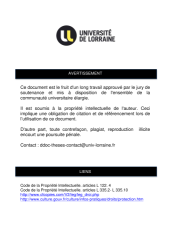 SCD_T_2006_0234_ALBERTO.pdf (15.39 Mo)
Télécharger le fichier
Origin : Files produced by the author(s)