Genetic abnormality knowledge in respiratory epithelium applied to tung cancer prognosis, chemoprevention using retinoids and cystic fibrosis inflammation understanding.
Anomalies géniques de l'épithélium respiratoire : applications dans la carcinogenèse bronchique et la mucoviscidose
Recent advances about gene abnormality knowledge in respiratory disease allow new approches especially in non small celi lung cancer and cystic fibrosis. Thus, we investigated new markers for lung cancer prognosis (ras, bcl2, p53, c-erb-b2 genes), and the causes of chemoprevention failure using retinoids such as loss of heterozygoty or retinoic acid receptor [bêta] gene promoter hypermethylation. Concerning cystic fibrosis inflammation, processes, bacterial adherence vvas shown tobe of major importance although a direct (endogenous) contribution of the CFTR gene ddect cannot he ruled out. Nuclear transcription factor NF[kappa]B activation and interleuk.in-8 secretion were lowered in vitÎo after gene transfer.
Les progrès de la connaissance des anomalies génétiques des maladies respiratoires permettent d'envisager des applications pratiques dans le domaine de la carcinogenèse bronchique et de la mucoviscidose. Nous rapportons nos travaux, d'une part pour l'étude de l'intérêt de l'étude de nouveaux marqueurs de pronostic (anomalies de ras, bcl2, p53, c-erb-b2) dans les carcinomes bronchiques non à petites cellules, et d'autre part pour la compréhension des échecs de la chimioprévention par les rétinoïdes qui sont notamment liés à l'absence d'expression de récepteurs de l'acide rétinoïque (RAR[bêta]) du fait de délétions alléliques ou d'hyperrnéthylation des promoteurs des gènes correspondants. Dans le domaine de l'inflammation bronchique de la mucoviscidose nous identifions un rôle majeur de l'adhérence bactérienne. L'activation du facteur de transcription nucléaire NF[kappa] B et la sécrétion d'interleukin-8 ont pu être réduits in vitro par transfert génique.
Fichier principal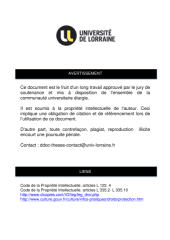 SCD_T_2002_0305_SCHEID.pdf (10.28 Mo)
Télécharger le fichier
Origin : Files produced by the author(s)