Expression des récepteurs activés par les proliférateurs de peroxysomes (PPAR) au niveau du colon sain et tumoral
Peroxisome proliferator-activated receptors (PPAR) are transcription factors belonging to the nuclear receptor family. Three isotypes of PPAR have been described in humans (a, NUC-1 also called b or d; and g). PPAR have been implicated in a variety of biological processes including colon cancer. We have studied the expression of PPAR in colonic tissues in three biological situations: during development of the human fetal digestive tract, in Caco-2 cells used as a model of enterocyte-like differentiation and in biopsies from tumoral and normal adjacent human colon. The PPAR subtypes are expressed as early as 7 weeks of foetus development in cell types of endoderm and mesoderm origins. The presence of PPARg protein is found by Western blotting and that of the encoding mRNA by nuclease-S1 protection assay, confirming that this subtype is not adipocyte-specific. PPARa, PPARb and PPARg exhibit different spatio-temporal patterns of expression during morphogenesis of the digestive tract. Whatever the stage and the gut region (except the stomach) examined, PPARg is expressed at a high level, suggesting some fundamental role for this receptor in development and/or physiology of the human digestive tract. The expression of PPARa and g was next studied in Caco-2 cells. This cell line exhibits enterocyte-like differentiation during long term culture. We showed by immunohistochemistry that both isotype protein levels increased gradually during cell differentiation Using Nuclease S1 protection assay, we demonstrated that there is not a concomitant increase in the transcriptional level of PPAR subtypes, especially PPARa and isoforme PPARg2 which seemed to be regulated at the translational level. Since PPARg has been involved in human colon carcinoma, we finally investigated the expression of this PPAR subtype in biopsies obtained from human colon adenocarcinoma. At the transcriptional level, PPARg was less abundant in tumours than in normal-paired tissues. In contrast, using immunohistochemistry we showed that the PPARg protein amount was more abundant in tumoral tissues. In addition PPARg immunostaining was exclusively found in cytoplasm. Moreover, in normal adjacent tissues PPARg was present in the upper one-third of the crypts suggesting that PPARg expression is associated to the differentiation/maturation process of columnar cells.
Les récepteurs activés par les proliférateurs de peroxysomes (PPAR) sont des facteurs de transcription appartenant à la superfamille des récepteurs nucléaires. Trois sous-types de PPAR ont été décrits chez l'homme (a, NUC-1 aussi nommé b ou d, et g). Les PPAR sont impliqués dans de nombreux processus biologiques dont le cancer colorectal. Nous avons étudié l'expression des PPAR dans le colon dans trois situations biologiques : durant le développement du tractus digestif foetal humain, au cours de la différenciation des cellules Caco-2 en tant que modèle de différenciation entérocytaire et dans des biopsies de tumeurs coliques humaines et du tissu sain apparenté. Les différents sous-types de PPAR sont exprimés dès la 7ème semaine de développement dans les cellules d'origine mésodermique et endodermique. La présence de la protéine PPARg est confirmée par immunoréplique et celle des ARNm codant par protection à la nucléase S1. Ceci confirme que ce sous-type n'est pas uniquement spécifique de l'adipocyte. Les PPAR montrent un profil d'expression différent durant la morphogenèse du tractus digestif foetal. Aux différents stades et régions observés, PPARg est exprimé à des taux importants, suggérant un rôle fondamental pour ce récepteur dans le développement et/ou dans la physiologie du tractus digestif humain. Les expressions de PPARa et de PPARg ont été étudiées dans les cellules Caco-2, cellules qui se différencient spontanément en entérocytes dans des conditions standard de culture. Nous avons montré par immunocytochimie que l'expression des deux isotypes augmente graduellement durant la différenciation. Par la technique de protection à la nucléase S1, nous avons montré une augmentation concomitante des taux transcriptionnels des sous-types de PPAR, notamment de PPARa et de PPARg2 qui semblent être régulé par un taux translationnel. Enfin, nous avons étudié l'expression des sous-types de PPAR dans des biopsies obtenues à partir d'adénocarcinomes coliques humains. Le taux transcriptionnel de PPARg est plus faible au niveau des tumeurs. Par contre, nous avons montré par immunocytochimie que la protéine PPARg est plus abondante dans le tissu tumoral. La localisation de la protéine dans les tumeurs est cytoplasmique. Dans le tissu sain, PPARg est localisé dans la partie supérieure des glandes suggérant un rôle de ce récepteur dans la différenciation / maturation des cellules.
Fichier principal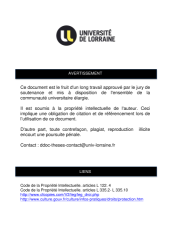 SCD_T_2002_0245_HUIN.pdf (15.52 Mo)
Télécharger le fichier
Origin : Files produced by the author(s)