Caractérisation moléculaire et immunoréactivité de deux allergènes chez Gadus Morhua (cabillaud de l'Océan Atlantique)
The number of cases of allergy is increasing in Western countries. Fish is one of the five most incriminated food. The various studies undertaken on the fish allergens have permitted to identify a parvalbumin as the major allergen. Many authors however carried out cartographies indexing many other proteins detected by IgE of the patients sensitized by fish. The purpose of this work was to identify new allergens in the atlantic cod, Gadus morhua. Two allergens have been identified by reverse-transcription and PCR, and by comparison with data banks. One of the allergens, called Gad ml, is a parvalbumin like all major allergens known in fish. It presents more identity with isoform 2 of the major allergen Sal sl of salmon than with the major allergen of the baltic cod, Gadus callarias and seems to make dimers. The second allergen, called Gad mll, is a glyceraldehyde 3-phosphate dehydrogenase, an ubiquitous protein which had never been detected as an allergen. Gad mll is a very represented allergen since it is detected by twelve patiens out of twenty five tested allergic-to-cod patients. Detection by allergic patients' IgE of recombinant protein Gad mll, in COS-1 cells confirms its allergenicity. This work enables to consider developments in food and diagnostic industries, as well as a study of vaccinotherapy by ADN.
Le nombre de cas d'allergie alimentaire est en augmentation dans les pays occidentaux. Le poisson est l'un des cinq aliments les plus incriminés. Les différentes études menées sur les allergènes de poisson ont permis d'identifier une parvalbumine comme étant l'allergène majeur. Plusieurs auteurs ont pourtant effectué des cartographies répertoriant de nombreuses autres protéines détectées par les IgE des patients sensibilisés au poisson. L'objectif de ce travail était d'identifier de nouveaux allergènes chez le cabillaud de l'Océan Atlantique, Gadus morhua. Deux allergènes ont été identifiés par transcription inverse et PCR, et comparaison avec les banques de données. L'un des allergènes, appelé Gad ml, est une parvalbumine comme tous les allergènes majeurs connus chez les poissons. Elle présente plus d'identité avec l'isoforme 2 de l'allergène majeur de saumon Sal sl qu'avec l'allergène majeur de Cabillaud de la Mer Baltique Gadus callarias, et semble se dimériser. Le second allergène, appelé Gad mll, est une glycéraldéhyde 3-phosphate déshydrogénase, protéine ubiquitaire qui n'avait encore jamais été détectée comme allergène. Gad mll, est un allergène très représenté puisqu'il est détecté par douze patients sur vingt-cinq patients allergiques au cabillaud testés. La détection, par les IgE des patients allergiques, de la protéine Gad mll exprimée de façon recombinante, dans les cellules COS-1, confirme son allergénicité. Ce travail permet d'envisager des développements en industries agro-alimentaires et diagnostiques, ainsi qu'une étude de vaccinothérapie par ADN.
Fichier principal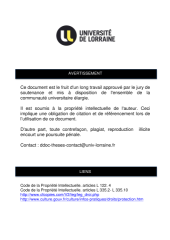 SCD_T_2002_0295_DAS-DORES.pdf (15.03 Mo)
Télécharger le fichier
Origin : Files produced by the author(s)