La Combustion par voie humide et ses performances
In the past, water has been used as additive component to improve combustion efficiency, to boost power, even as an anti-knock agent, as technique to reduce NOx formation. Today, using a wet combustion technique, gas turbines, generators concerned by the water vapor latent heat recovery, can benefit with a significant efficiency increasing from the energy saving and environment protection point of view.In wet combustion techniques, three fluids are supplied to the process: the fuel, the oxidizing or combustion agent and the additive waterTo analyse the wet combustion processes, the Combustion Hygrometric Diagram method is presented. Using wet bulb temperature as major parameter, this method is recommended for efficiency analysis, two-phases exchangers sizing. Many information of the water influence on the combustion processes behaviour are also given in this thesis.
Si l'eau a été utilisée comme additif pour améliorer la combustion, la puissance des machines, voire comme antidétonant puis, plus récemment, comme élément réduisant la formation des oxydes d'azote, la combustion humide offre la perspectives de performances énergétiques et écologiques remarquables, notamment dans le cas des turbines à combustion terrestres et des générateurs thermiques visant la récupération de la chaleur latente associée à la condensation de la vapeur d'eau des gaz de combustion.En combustion humide, trois fluides pénètrent dans la chambre de combustion : le combustible, l'air de combustion et l'eau additionnelle.Pour analyser ces procédés, une méthode dite Diagramme Hygrométrique de Combustion, a été développée. Cette méthode, est notamment à recommander pour l'établissement des rendements de combustion, le dimensionnement des échangeurs biphasiques. Des informations sur les modifications des conditions de la combustion sont également fournies.
Fichier principal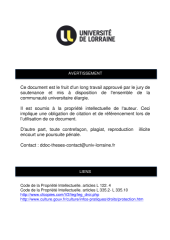 SCD_T_2002_0149_GUILLET.pdf (9.32 Mo)
Télécharger le fichier
Origin : Files produced by the author(s)