Law, cultural works and digital evolution : essay about adjustment of legal framework of "books"
Droit, œuvres culturelles et évolutions numériques : essai sur l'adaptation du cadre juridique « des livres »
Book law is made up of legal elements from private and public law. It is necessary to bring together both the economical and cultural aspects of books. As a support for knowledge, one must find the right balance between authors' rights and readers' rights. Therefore, studying book law implies looking at contract law, competition law, and intellectual property law with rights to public loan, among others. The public's access to books takes on a new dimension with new information and communication technologies. Digital content is quickly associated with free content. Consequently, representatives of book professionals try to take the necessary means to maintaining the book chain : author, editor, printer, publisher, distributor, library, public. However, the dematerialized format of the work invites one to think about adapting the legal framework « of books ».The problem concerning books is in determining how to maintain the economy of books, while the internet makes it easier for multinationals to implant themselves in commercial relations of cultural goods on one hand, and makes data transmission easier on the other hand. These new modes are the occasion for the Internet giants to get hold of digital scripture and to broadcast it using less restrictive techniques than the traditional book trade established in France. In order to deal with this problem, the question has been divided into two parts. The first one is to consider the modes of economic book distribution. The second one is to look back at the the cultural aspect of books and how the digital world could maintain a fair sharing of rights between those of the author and those of the contents user.Via these two conceptions of the book file, it is possible to suggest distribution mechanisms for digital and scanned books in which the user is taken into consideration. However, taking the public into account for legislative choices is not likely to call all intellectual property law into question. The Open movement, particularly well-known in the field of I.T, might come across as a compromise between paying the author, or beneficiary, and the public's access to literary, artistic and scientific writings. Patronage, public/private partnerships, and collective management of rights are all modes of exploitation which could allow for both economic and cultural exploitation of digital and scanned books. These are elements which will be developped all throughout this project.
Le droit du livre est constitué d'éléments juridiques issus du droit privé et du droit public. En effet, il s'agit de concilier à la fois les aspects économiques du livre avec les aspects culturels. En tant que support de la connaissance, il convient de trouver un juste équilibre entre les droits d'auteur et les droits du lecteur. Ainsi, l'étude du droit du livre implique de confronter, entre autre, le droit des contrats, le droit de la concurrence et le droit de la propriété intellectuelle avec le droit au prêt public. Avec les nouvelles technologies de l'information et de la communication, l'accès du public au livre prend une nouvelle dimension. En effet, le numérique est rapidement assimilé à la gratuité des contenus. En conséquence, les représentants des professionnels du livre tentent de prendre les mesures nécessaires à maintenir la chaîne du livre : auteur – éditeur – imprimeur – diffuseur – distributeur – bibliothèque – public. Toutefois, le format dématérialisé de l'œuvre invite à une réflexion sur l'adaptation du cadre juridique « des livres ». La problématique autour des livres consiste à déterminer comment maintenir l'économie du livre, alors que le réseau internet facilite d'une part, l'implantation des multinationales dans les relations commerciales de biens culturels et, d'autre part, la transmission des données. Ces nouvelles modalités sont notamment l'occasion pour les géants de l'Internet de se saisir de l'écrit numérique et de le diffuser selon des techniques moins contraignantes que le commerce traditionnel de livres imprimés établi sur le territoire français. Pour répondre à cette problématique, la question a été scindée en deux parties. La première envisage les modalités de diffusion économique du livre. La seconde revient sur l'aspect culturel du livre et en quoi le numérique peut permettre de maintenir une juste répartition des droits entre ceux de l'auteur et ceux de l'usager des contenus. À travers ces deux conceptions du fichier livre, il est possible de proposer des mécanismes de diffusion de livres numériques et numérisés dans lesquels l'usager est pris en considération. Pour autant, la prise en compte du public dans les choix législatifs n'est pas de nature à remettre en cause l'ensemble du droit de propriété intellectuelle. Le mouvement Libre, particulièrement connu dans les domaines informatiques, peut apparaître comme un des compromis entre la rémunération de l'auteur ou des ayants droit et l'accès du public à l'écrit littéraire, artistique et scientifique. Le mécénat, les partenariats publics/privés, les gestions collectives des droits sont autant de modalités d'exploitation qui peuvent permettre l'exploitation tant économique que culturel des livres numériques et numérisés. Ce sont ces éléments qui seront développés tout au long de ce projet.
Fichier principal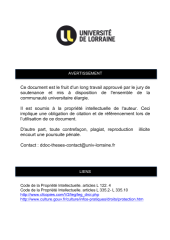 DDOC_T_2015_0286_DUVILLIE.pdf (3.58 Mo)
Télécharger le fichier
Origin : Files produced by the author(s)