L'influence des organisations syndicales de salariés sur la performance économique et financière des entreprises : proposition et test d'un modèle explicatif dans le contexte français
The relationship between unions and workplace financial performance in France was examined. Starting from pointing out the conceptual limitations of the current paradigm for the union-performance research and resultant contradictory empirical findings, the focus of the investigation was to empirically assess a model of the union impact on firm performance in the French context. First, using data from a nationally representative survey which covered 2831 French establishments in all private sector, union presence was found to have no impact on workplace financial performance. However, a new and interesting finding is that when there were multiple unions in the workplace, there is a positive impact of unions on labor productivity and on the level of wages. Second, using a case study, we examined more deeply the process of collective bargaining and the industrial relations climate in a manufacturing establishment. Finally, this study suggests a renewal of collective bargaining in the French workplace which is still much debated nowadays.
L'objectif de cette recherche consiste à étudier le lien entre la présence syndicale et la performance des entreprises en France. Après un rappel des différentes théories existantes et une synthèse des principaux travaux empiriques sur le sujet, un modèle de recherche tenant compte des spécificités du système de relations professionnelles français est proposé. Dans un premier temps, une étude quantitative est conduite sur un échantillon de 2 831 établissements français, issus de l'enquête REPONSE, menée par la DARES (Ministère de l'Emploi et de la Solidarité) en 1998. Les principaux résultats mettent en évidence l'absence de liens significatifs entre la présence syndicale et la performance financière des entreprises françaises du secteur privé. En revanche, l'analyse statistique indique que le pluralisme syndical agit sur la productivité du travail et sur le niveau des salaires, soulignant l'importance de considérer davantage les rapports de pouvoir et le jeu des acteurs dans le cadre des relations professionnelles. Dans un second temps, une étude de cas illustrative est réalisée afin de donner du " sens " et de la " profondeur " aux résultats statistiques. Cette étude approfondie renforce l'idée selon laquelle ce n'est pas la présence syndicale en soi qui affecte la performance des entreprises mais plutôt la dynamique relationnelle entre les acteurs sociaux.
Fichier principal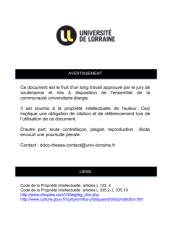 2002NAN22002.pdf (27.22 Mo)
Télécharger le fichier
Origin : Files produced by the author(s)