Multimédia et création : contribution des artistes au développement d'une écriture multimédia
Multimedia offer a new and complex semiotic potential that calls into question the former media's postulates. Such changes are due to a paradigmatic shift affecting the informational and communicational field as a whole. Artists exemplarily experience, and experiment upon them. The thesis focuses on the precise meeting-point between creation and multimedia and explores their intersection.The first part elaborates a theoretical frame to analyse multimedia creation. The second is based on eleven interviews with artists and theoreticians, and suggests a semio-pragmatic approach of ten artist's CD Roms. It thus isolates the idiosyncratic features of their multimedia writing to move on to outlining, in two successive syntheses, the structural, pragmatic and aesthetic orientations of multimedia writing as such.
Le multimédia propose un potentiel sémiotique nouveau et complexe qui remet en cause les postulats formalisés par les médias antérieurs. Les bouleversements sont dus à un changement de paradigme qui affecte l'ensemble du domaine informationnel et communicationnel. Ils sont vécus et expérimentés de manière exemplaire par les artistes. La thèse se situe au point précis de la rencontre entre la création et le multimédia et examine comment ces deux domaines se croisent. Dans la première partie, elle construit un cadre théorique concernant la création dans le domaine du multimédia. La seconde partie s'appuie sur onze entretiens avec des artistes et des théoriciens de l'art et soumet les dix Cd-rom d'auteurs du corpus à une analyse sémiopragmatique. Elle dégage les caractéristiques de leur écriture multimédia puis procède, par le biais de deux synthèses successives, à dessiner les orientations structurales, pragmatiques et esthétiques qu'emprunte l'écriture multimédia en tant que telle.
Fichier principal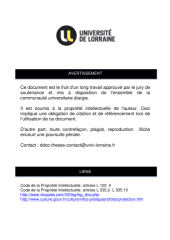 Morelli.Pierre.LMZ0012_1.pdf (37.89 Mo)
Télécharger le fichier
Morelli.Pierre.LMZ0012_2.pdf (11.43 Mo)
Télécharger le fichier