L'intériorisation de l'universel la conscience républicaine comme être-commun : Idéalité politique et désingularisation. Recherches sur les fondements de la civilisation républicaine
This philosophical thesis is deal with problematic of common political existence. The aim of this work is to propose a analysis of republican rationality to show it determines the conscience of citizens. The reflection is centre on republican universality to examine the effects it have on humanisation, particularely on human faculties. In a first time the autor show that universal politic act and the common conscience which accompagn it proceed by " desingularisation ". The problem of relations beetween subjectivity and objectivity is analysed. Effectively, universal political act put everybody in touch with everybody and objectivize every citizen including the relation to himself wich is now mediatized by the all political body. Phenomenological method is used to point out the caracteristics of republican rationality and the type of relation to other citizens it implics. From a phenomenological point of wiew, the autor wants to show political experience proceed by desingularisation and how individualities consciences and bodis-, When aiming political objectities (republican), escape from empirical determinations and reach immaterality of political ideality (intimely connected with political body) which is universal and unifying.
Cette thèse de philosophie est centrée sur la problématique de l'être-commun politique. L'être-commun politique c'est le vivre commun impliquée par l'idée républicaine, vivre commun qui se déploie dans la conscience désingularisée et universelle que nous avons les uns des autres en tant que membre de la communauté politique fondée sur la recherche d'un bien commun.Le but de ce travail est de mener une analyse de la rationalité politique républicaine pour montrer qu'elle détermine la conscience que nous avons les uns des autres des modalités de nos existences qui se rapportent à un vivre en commun. Dans ce cadre, la réflexion consiste à s'interroger sur l'importance fondatrice de l'universalité républicaine pour cerner les effets qu'elle peut avoir sur l'humanisation, en particulier sur l'accomplissement des principales facultés humaines.Dans un premier temps est abordé le problème du rapport de l'individu à sa propre subjectivité et à l'objectivité de l'institution républicaine. En effet, l'acte politique universel (dont l'exemple type est constitué par le contrat social de Rousseau) et la conscience commune qui est indissociable se trouvent être désingularisants pour les individus : chaque membre de la communauté politique est invité à s'objectiver lui-même car la relation qu'il a avec les autres est médiatisée par l'institution des règles communes. Chacun se trouve alors dans une relation identificatrice et objectivante aux autres et, s'il se saisit lui-même au sein du corps politique, c'est toujours comme un autre. De plus le phénomène de désingularisation entretient une relation étroite avec la notion d'idéalité politique qui implique de se référer à l'exigence d'un bien commun qui dépasse les individualités et leurs différences. Cette démarche nous a permis de proposer une analyse des soubassements de la rationalité politique dans ses fondements conceptuels et dans son élaboration démocratique.
Fichier principal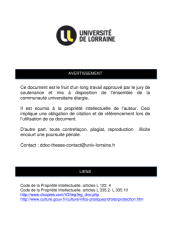 Cosson.Franck.LMZ0323.pdf (25.5 Mo)
Télécharger le fichier
Origin : Files produced by the author(s)