Les débits de boissons dans les petites villes d'Alsace : de 1844 à1914
Public houses has always been considered to ensure hospitality function : welcoming, feeding, quenching, accommodating, the utility of which lay in their permanent location on well-frequented ways, and in the remaining of the profesion inside the same family circles. However, because of the sudden increase of social fear ofter 1848, public houses activity became threatening. Political and religious authorities, and everyone who cared for people's safety, in a common union, tried to contain festive or daily practices of youth and poor classes groups. At the end of 19th century, public houses frequenting was progressively legitimated, provided that it answered to cultural, sportive or political aims. Drinking becomes a personal choice, every excess of which would lead to disease. Publicans, who have recovered their expression rights, try to restore their social status.
Les débits de boissons assurent une fonction hospitalière reconnue : accueillir, nourrir, abreuver, loger, dont l'utilité se traduit par la permanence des emplacements sur les voies de passage, la reproduction du métier à l'intérieur des mêmes réseaux familiaux. Pourtant, lorsque après 1848 naît la peur sociale, l'activité des débits devient dangereuse. Les autorités politiques, religieuses, ceux que préoccupe le bien du peuple, tous unis, essaient d'endiguer les pratiques festives ou quotidiennes des groupes de jeunes et de pauvres, les privant ainsi des occasions d'affirmer publiquement leur honorabilité. Vers la fin du 19e siècle, la fréquentation du débit de boissons est progressivement légitimée, à condition qu'elle se fasse avec des visées culturelles, sportives, politiques. L'acte de boire devient un choix individuel, et les excès sont punis par la maladie désormais nettement définie. Les débitants, à qui la parole a été rendue, trouvent le moyen de justifier leur fonction sociale et de réhabiliter leur honneur professionnel en exprimant les formes d'intervention d'un groupe de pression organisé.
Fichier principal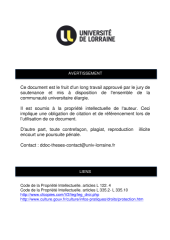 Hirsch.Jean_Pierre.LMZ0317_1.pdf (22.95 Mo)
Télécharger le fichier
Hirsch.Jean_Pierre.LMZ0317_2.pdf (25.59 Mo)
Télécharger le fichier
Hirsch.Jean_Pierre.LMZ0317_3.pdf (27.23 Mo)
Télécharger le fichier
Origin : Files produced by the author(s)