Insertion par l'activité économique et gestion de la précarité : l'exemple du dispositif des associations intermédiaires
The transformations relative to the employment and labour market lead us to take an interest in the development of a specific framework regarding management of the workforce furthest away from the employment. The example of the working process of intermediary associations, acting into the insertion field by the economic activity, enables us to clearly understand the creation, the development and the transformations which occurred for this intermediary body of the employment over the second part of the 20th century. Considered as a fast growing social and historical construction of collective and individual actors, the structure, thanks to the listed elements, holds a central position into the study of populations suffering from severe difficulties to gain access to the labour market. The constitution of this professional group results from the confrontation of three logics : institutional, collective and organisational, the third one being linked to the professional practices of permanent people. The work carried out on this matter reflects a radical evolution of the forms of employment through its modalities of reproduction and extension in the margins of the wage-earner society.
Les transformations du marché du travail et de l'emploi poussent à s'intéresser à la formation d'un espace spécifique de gestion de la main-d'oeuvre la plus éloignée de l'emploi. L'exemple du dispositif des associations intermédiaires, oeuvrant dans le secteur de l'insertion par l'activité économique, permet de comprendre la formation, le développement et les transformations, pendant la seconde moitié du XXème siècle, de ce corps intermédiaire de l'emploi. Construction socio-historique d'acteurs collectifs et individuels en pleine évolution, la structure occupe, grâce aux éléments répertoriés, une place centrale dans le traitement des publics en grande difficulté pour l'accès au marché de l'emploi. La formation de ce groupe professionnel résulte de la confrontation de trois logiques : institutionnelle, collective et organisationnelle, la troisième étant liée aux pratiques professionnelles des permanents. Le travail mené reflète une évolution radicale des formes de l'emploi dans ses modalités de reproduction et d'extension dans les marges de la société salariale.
Fichier principal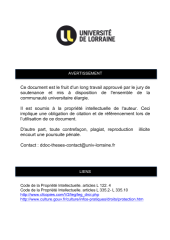 2003NAN21007.pdf (3.56 Mo)
Télécharger le fichier
Origin : Files produced by the author(s)