The dacadence in Suetonius's "Vitae Caesarum"
La décadence dans les "Vies des douze Césars" de Suétone :
Why should decadence be studied in Suetonius' Vitae Caesarum since this notion usually characterizes a latest period in Roman History ? In order to understand this period beginning with Julius Caesar and endind with Domitianius, Suetoniu's work seems to be a landmark in the history period in which a feeling of decline is perceived. Our method starts with the study of the emperors' personalities : it contains semantic analyses relying on comparaisons between various latin and greek authors. Furthermore, the study of decline theoreticians will enrich our thinking. The first part is focused on the daily lives of the Caesars in the palace. The second one ensues from it : this life reveals that an unlimited power creates behavioural troubles. But the emperors are presented by a writer, that implies a third esthetic part : because the way we perceive the Caesars relies on a stylistic work displaying the characteristics of a narration ending with a moral. Consequently how do we end up perceiving the Caesars ?
Pourquoi étudier la décadence dans "La Vie des douze Césars" puisque cette notion correspond d'ordinaire à une période plus tardive de l'histoire romaine ? Pour comprendre cette période qui va de César à Domitien, l'oeuvre de Suétone paraît ici fixer une date à laquelle un sentiment de décadence est perçu. Notre méthode part de l'étude des personnalités impériales : elle suppose des analyses sémantiques appuyées sur des comparaisons entre les différents auteurs, latins et grecs ; de plus l'examen des théoriciens de la décadence enrichira notre réflexion. La première partie de la thèse est consacrée à la vie quotidienne que les Césars mènent au palais. Une seconde partie en découle : l'existence du palais révèle qu'un pouvoir illimité engendre des troubles du comportement. Mais les empereurs sont présentés par un écrivain, ce qui implique une troisième partie esthétique : car notre vision des Césars repose sur un travail d'écriture qui offre les caractères d'un récit accompagné de morale. A quelle perception des Césars aboutit-on alors ?
Fichier principal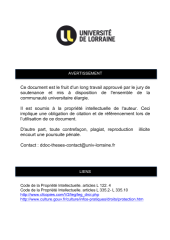 2003NAN21005_1.pdf (2.89 Mo)
Télécharger le fichier
Origin : Files produced by the author(s)