The working time patterns and the inflection in employment policies in France with regard the industrial relations and the work organization : Which methods in managing the labour force ?
L'aménagement-réduction du temps de travail et l'inflexion des politiques d'emploi en France à l'aune des régulations d'entreprise et de l'organisation temporelle du travail : quelle dynamique des modes d'emploi ?
The purpose of our thesis is to present and to analyse the diversity in the way the shorter week have been implemented in France and how they are applied in compagnies following the application of the Aubry 1 law, we specifically attempted to examine the effects of changes in working hours on method of organization and the way labour are managed and used and the industrial relations. The working time patterns constitute a major purpose, if not to say central, element in employment policies toward bringing flexibility in the organisation of work and working time. Heteronomy related to the working time shows a recent diversification in the individual and collective duration of work related to the stacking of the devices regarding working time. We consider the selected methods of organization of the working time, by questionning the remaining of the labour division and the effects of reorganizations of work an on its evolution, specially in connection with the consequences related to the working conditions. It suggests that the 35-hours week is an opportunity to introduce new methods in managing the labour force.
L'objet de notre thèse est de mettre en évidence et d'analyser la diversité des processus actuels d'aménagement-réduction du temps de travail en France tels qu'ils sont appliqués dans les entreprises suite à la mise en application de la loi n? 98-461 du 13 juin 1998, loi d'orientation et d'incitation relative à la réduction du temps de travail (ou loi Aubry 1), en s'attachant à examiner les réorganisations (temporelles) du travail, les transformations du travail, le jeu des relations professionnelles. Au final, notre étude porte sur les pratiques de gestion des modes d'emploi. Les transformations managériales induites par l'ARTT participent à de nouvelles formes de gestion des modes d'emploi et de mobilisation de la main-d'oeuvre marquées par la conciliation de principes jusqu'alors opposés : flexibilité interne et externe, division et coopération, participation et restructuration, autonomie et domination. L'évolution du temps de travail en France est profondément marquée par un double mouvement. D'une part, une réduction significative et continue de la durée du travail sur le long terme. Dans ce contexte, la réduction du temps de travail est abordée en terme de progrès social, et s'inscrit comme un symbole des luttes ouvrières de la fin du XIXème siècle au début du XXème siècle. L'aménagement du temps de travail constitue, pour sa part, un élément important, sinon central des politiques d'emploi dans un but de flexibiliser l'organisation du travail et du temps de travail (chapitre 1). D'autre part, l'hétéronomie liée au temps de travail montre une diversification récente des durées individuelles et collectives du travail liée à l'empilement des dispositifs en matière de temps de travail (chapitre 2). Nous proposons ici d'évaluer les conséquences de cette différenciation des temps travaillés, et de saisir plus précisément l'individualisation et l'éclectisme du temps de travail institutionnalisés en quelque sorte par la loi du 13 juin 1998. Ces conséquences sont analysées dans le cadre des relations professionnelles prenant en compte les (nouveaux) partenaires sociaux de la négociation d'entreprise, les modalités retenues et la naissance de nouvelles règles temporelles et salariales (chapitre 3) Nous considérons les modalités retenues d'organisation du temps de travail, en interrogeant le maintien de la division du travail (chapitre 4) et les effets des réorganisations du travail et sur l'évolution du travail, notamment à propos des conséquences portées sur les conditions de travail (chapitre 5). Dans le but de mettre à jour les pratiques de modes d'emploi et de façon plus précise les liens existants entre l'ARTT et les modes de flexibilisation de la main-d'oeuvre (chapitre 6).
Fichier principal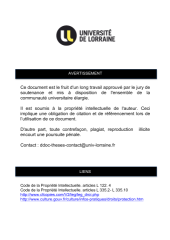 2003NAN21002_1.pdf (2.89 Mo)
Télécharger le fichier
Origin : Files produced by the author(s)