Female figures in Simone de Beauvoir's autobiographies
Les Figures féminines dans les autobiographies de Simone de Beauvoir :
Woman figures refer to the literary form which Beauvoir gave to women in her autobiographies : it is a form because there is a considerable distance from the real person to the autobiographical figure. The distance between them reveals the meaning of the autobiographical undertaking : rediscover the meaning of a life which main queries are the quest of unprecedented human relations and death. We shall first introduce the genesis of the autobiography, then woman figures, with the help of the philosophical concepts used by Beauvoir to analyses women's status. This introduction will shed light on the feminist significance of autobiography : the central female figure, Simone de Beauvoir, with her singular and exemplary destiny, will appear both as a counterbalance to other figures which are unable to go beyond their condition, and as an intellectual commited figure who was able, philosophically and ideologically, to think without Sartre. The confrontation of the autobiography and the correspondance will reveal the ambiguity of Beauvoir's relations with these figures : to the first, the quest for an idealistic double, even if it means making it up ; to the second, domineering or even perverse relations with younger woman. Finally, following the curve a life - her own and that of her close relations - leads Beauvoir to giving an account of their death. Filled with a genuine anguish of death, she tries to ward it off by writing in order to save the past from oblivion and say goodbye to beloved ones ; autobiography hallows the figures' death and reveals a writer in her own right, who has proved capable of giving a universal dimension to a singular experience.
Les figures féminines désignent la forme littéraire que Beauvoir a donnée aux femmes dans ses autobiographies : forme, car il y a loin de la personne réelle à la figure autobiographique. L'écart de l'une à l'autre révèle la signification de l'entreprise autobiographique : retrouver le sens d'une vie dont les questions principales sont la recherche de rapports humains inédits et la mort. Nous présenterons d'abord la genèse de l'autobiographie, puis les figures féminnines à l'aide des concepts philosophiques utilisés par Beauvoir pour analyser la condition des femmes. Cette présentation éclairera la portée féministe de l'autobiographie : la figure féminine centrale, Simone de Beauvoir, au destin singulier et exemplaire, apparaîtra comme le contrepoint aux autres figures qui ne parviennent pas à dépasser leur situation, et comme une figure de l'intellectuelle engagée qui a su, philosophiquement et idéologiquement, penser sans Sartre. La confrontation de l'autobiographie et de la correspondance révèlera l'ambiguïté des relations de Beauvoir avec ces figures : à la première, la quête du double idéal, quitte à le fabriquer, à la seconde, les relations dominatrices, voire perverses, avec des femmes plus jeunes. Enfin, suivre la courbe d'une vie, la sienne et celle de ses proches, mène Beauvoir au récit de leur mort. Habitée par une véritable angoisse de la mort, elle la conjure en écrivant afin de sauver le passé de l'oubli et de faire le deuil des êtres aimés : l'autobiographie consacre la mort des figures et révèle une écrivaine à part entière, qui a su universaliser une expérience singulière.
Fichier principal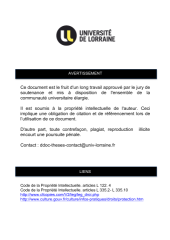 2001NAN21004_1.pdf (22.69 Mo)
Télécharger le fichier
Origin : Files produced by the author(s)