L'armorial d'André de Rineck : un manuscrit messin du XVème siècle (Vienne, Osterreichische Nationalbibliothek, Cod. 3336)
This doctoral thesis is primarily devoted to the edition of André de Rineck's armorial (Vienna, ÉOsterreichische Nationalbibliothek, Cod. 3336), a late XVth century armorial from the city of Metz. It includes a detailed description of the manuscript (codicological description, content analysis, biographical sketch of the previous owners), a scientific edition, a transcript of the textual material in the manuscript and in three additionnal related armorials placed in appendix. This previously unpublished material provides a major contribution to our knowledge of heraldics in Metz and within the Lorraine province. Tracing its line of descent hints at the existence of at least two previous armorials that are no longer extent. This manuscript is a rare testimony to heraldic activity at the Lorraine's court. Also, it testifies to the importance that Metz patricians granted to armorials among other intellectual, social and political issues. It appears tha Metz elite circle, sharing a deep concern for civic independance and recognition of their nobility as safeguarding this independance, used armorial as a manifesto to that effect. Our research put in the limelight the significance of medieval armorials as crucial socio-political documents.
Cette thèse est l'édition d'un armorial messin de la fin du XVe siècle : l'armorial d'André de Rineck (Vienne, ÉOsterreichische Nationalbibliothek, Cod. 3336). Elle propose une présentation détaillée du manuscrit (description codicologique, analyse du contenu, biographie des propriétaires), une édition scientifique de l'armorial, ainsi que la transcription des textes contenus et de trois autres armoriaux parents en annexes. L'étude de ce document inédit apoorte de nombreux éléments à la connaissance de l'héraldique lorraine et en particulier messine. Sa filiation permet d'envisager l'existence d'au moins deux armoriaux lorrains plus anciens non conservés. Il est donc l'un des rares vestiges d'une activité héraldique à la cour de Lorraine. Mais émanant du patriciat messin, il est également un précieux témoignage de l'importance que ce milieu accorde à ses armoiries et de ses préoccupations intellectuelles, sociales et politiques. Les élites messines soucieuses de l'indépendance de leur cité et de la reconnaissance de leur noblesse, garante de cette indépendance, ont utilisé cet armorial comme un manifeste. Cette étude éclaire davantage la signification des armoriaux médiévaux comme documents d'histoire socio-politique.
Fichier principal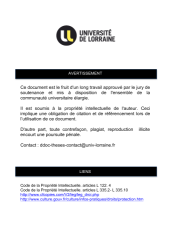 2003NAN21025_1.pdf (13.72 Mo)
Télécharger le fichier
Origin : Files produced by the author(s)