Étude du rôle de la culture nationale dans la relation entre les pratiques de GRH et de la performance organisationnelle : le cas des banques de vingt-deux pays d'Amérique du Nord, d'Europe et d'Asie
The trend toward globalization seems to be stronger than event for the business community nowadays. Businesses set up new activities in foreign countries in order to gain access to new markets and to increase their sales. Although globalization is gaining in importance, many factors must be taken into account if one aspires to succeed abroad. One of those factors is national culture. National culture is the topic of this dissertation. The goal is to investigate how national culture can impact the relationship between human resources practices and organizational performances of banks in twenty-two countries of North-America, Europe and Asia. Our study looks more closely at the influence of eight dimensions linked to human resources (HR) practices (incentive income, training, recruiting, selection, employee s performance appraisal, work organization, communication, and job security) on organizational performances (social performances, economic performances, financial performances). We were able to establish that HR practices lead to different outcomes in different countries. For instance, some HR practices can have a positive influence in France but a negative influence in Japan because of the existence of a distinct culture. In order to measure national culture, we have used Geert Hofstede (1991) framework, which identifies national culture with four dimensions, power distance, individualism, uncertainty avoidance, and masculinity, in each country.
Nous assistons présentement à un fort mouvement de mondialisation des entreprises. Ces dernières s'implantent à l étranger afin d accéder à de nouveaux marchés et ainsi faire croître leur chiffre d'affaires. Bien que ce mouvement prenne de plus en plus d ampleur, il n'en demeure pas moins que pour réussir cette implantation il faut tenir compte de plusieurs facteurs. Un des ces facteurs est la culture nationale. Cette thèse se veut donc une étude sur le rôle de la culture nationale dans la relation entre les pratiques de gestion des ressources humaines et la performance organisationnelle des banques de vingt-deux pays d'Amérique du Nord, d'Europe et d'Asie. Ainsi, notre étude a mesuré l'impact de huit formes de pratiques RH (rémunération, formation, recrutement, sélection, évaluation du rendement, organisation du travail, partage de l information, sécurité d emploi) sur la performance organisationnelle (performance sociale, performance économique et performance financière). Nous avons été en mesure de constater que dépendamment du pays dans lequel la pratique RH est utilisée, l'effet de cette dernière sur la performance organisationnelle est différent. Certaines pratiques RH ayant un impact positif en France pourraient avoir un impact négatif au Japon, la culture nationale expliquant cette différence. Afin de mesurer la culture nationale, nous avons utilisé les résultats de Geert Hofstede (1991) qui mesure la culture nationale en fonction de quatre dimensions soit la distance hiérarchique, l'individualisme, le contrôle de l incertitude et le niveau de masculinité présent dans chacun des pays étudiés.
Fichier principal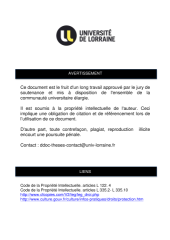 Arcand.Guy.LMZ0618.pdf (955.42 Ko)
Télécharger le fichier
Origin : Files produced by the author(s)