La greffe orthotopique de biopsies de gliomes malins humains chez la souris nude : un modèle pré-clinique général de recherches en neuro-oncologie
Human glioblastomas grafts onto nude mice brains allow a brain tumor model that closely ressemble the human situation with the exception of their microvascular bed. Chimerism sludies by in situ hybridisation coupled to immunohistochemislry allows unequivocal identification of tumor cells from reactive gliosis and vasculature of the mouse host brain. As such, this method provides a model for the analysis of the tumor cells differentiation, kinetic and migration pattern inside the parenchyma of the mouse host brain.With this model, the ability to measure the characteristics of the tumors noninvasively using NMR technique such as MRI and 31 P NMR Spectroseopy and to compare with gold standard histological techniques has been validated. Cell distribution studies of phosphorothioate oligonucleotides have demonstrated the usefulness of such a model for antisens therapy strategies in humans. The results obtained open, without ethical limitations, numerous possibilities for direct in vivostudy of experimental human gliomas.
La xénogreffe orthotopique chez la souris nude, sous la léptoméninge et sur le cerveau, d'un fragment de glioblastome humain recrée, à l'exception de la cinétique des cellules endothéliales, les caractéristiques d'un gliome évoluant spontanément chez l'homme. Avec un tel modèle, le chimèrisme cellulaire comme marqueur d'origine des cellules, étudié par hybridation in situ couplée à l'immunohistochimie, pennet d'analyser la différenciation, la cinétique et la migration des cellules néoplasiques mais allssi la vascularisation tumorale et la gliose réactionnelle de l'hôte. En amont de l'analyse histopathologique du gliome xénogreffé, la prise, le développement et la nécrose des greffons tumoraux peuvent être appréciés in vivo par des techniques non invasives de résonance magnétique nucléaire morphologique (IRM du proton) et métabolique (spectroscopie du phosphore). Parmi la multitude des applications possibles de ce modèle, une étude de distribution tissulaire d'oligonucléotides phosphorothioate marqués, injectés à la souris nude porte-greffe, est entreprise dans la perspective de thérapies antisens. Ainsi, des études expérimentales in vivo des gliomes humains n'impliquant pas le malade deviennent possibles tant dans le domaine du diagnostic et de la thérapie que dans celui de la biologie fondamentale.
Fichier principal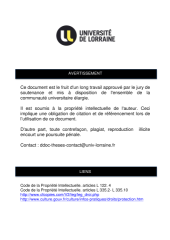 SCD_T_2002_0329_ANTUNES.pdf (8.6 Mo)
Télécharger le fichier
Origin : Files produced by the author(s)