Tradition and originality in "Les Croniques et conquestes de Charlemaine"
Croniques et conquestes de Charlemaine : tradition et originalité
In CRONIQUES ET CONQUESTES DE CHARLEMAINE (completed in 1458), David AUBERT, born of erudite civil servants working for the court of Burgundy, compiles chronicles and chansons de geste about Charlemagne. His work was seen for a long time as a collection of heterogeneous texts, illustrating the literature of Philippe LE BON's court, praising chivalrous values destined to disappear. In spite of rather dull appearances initially, David AUBERT proves himself to be an exacting author.He sets his work on a solid foundation and secures the coherence of the text thanks to his art of the conjointure and by never losing sight of his subject, Charlemagne. His prose is varied, it remains largely concise, even energetic, and it can also become intensely rythmical, majestically musical. His diverse style makes him a writer of his own. But what makes him all the more original is his attitude towards his sources. He treats them casually, resorts to innovations while drawing on traditional epic sources, thus appealing to the reader with a new reading style full of connivance. This call to the reader sheds new light on his work, stressing, beyond the disenchantement and melancholy of a bygone chivalrous era, a new claim to the pleasure of reading based upon complicity between the author and the reader.
Dans les Croniques et Conquestes de Charlemaine (achevées en 1458), David Aubert, issu d'une famille de fonctionnaires lettrés attachés à la cour de Bourgogne, compile chroniques et chansons de geste mettant en scène Charlemagne. Longtemps cette oeuvre a été perçue comme un assemblage de textes hétéroclites, illustration de la littérature de la cour de Philippe le Bon, chantant des valeurs chevaleresques appelées à disparaître. Derrière des apparences assez ternes au premier abord, David Aubert se révèle un auteur rigoureux. Il ne perd jamais de vue son sujet : Charlemagne. Il donne à son oeuvre une architecture forte et cohérente grâce à son art de la conjointure. Sa prose est variée : si elle reste majoritairement concise, voire nerveuse, elle peut se développer en cadences majeures, à la musique majestueuse. La diversité de son écriture en fait un créateur original. Mais plus encore c'est son attitude vis-à-vis des sources qui constitue sa spécificité : il en joue avec désinvolture, s'autorise des innovations tout en puisant dans la matière épique traditionnelle, sollicitant en définitive le lecteur dans un nouveau pacte de lecture plein de connivences. Cet appel au lecteur éclaire d'un jour nouveau cette oeuvre en mettant en lumière, au-delà du désenchantement et de la mélancolie d'une époque chevaleresque révolue, la revendication nouvelle d'un plaisir de lecture fondé sur la complicité entre l'auteur et le lecteur.
Fichier principal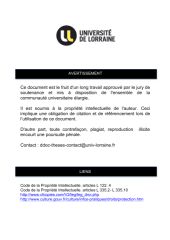 2008NAN21006.pdf (2.66 Mo)
Télécharger le fichier
Origin : Files produced by the author(s)