Phytochemical investigation, evaluation of larvicidal and anti-acetylcholinesterase activities of different extracts of Mercurialis annua L.
Investigation phytochimique, évaluation des activités larvicide et anti-acétylcholinestérase de différents extraits de Mercurialis annua L.
This work reports the link between the larvicidal activity and the chemical composition of the different extracts of the male and female feet of Mercurialis annua L. a Euphorbiaceae often used in traditional medicine. The plant material used in our study is collected in four regions of Tunisia located in different bioclimatic stages: Bizerte, Jandouba, Nabeul and Beja. This study includes a first part devoted to a bibliographic synthesis. The second part is devoted to experiments and results. Indeed, we evaluated the antioxidant activity of the different extracts using DPPH tests. The phenolic compounds were identified and quantified by liquid chromatography coupled with a UV detector and mass spectrometry (LC-UV-ESI / MS). Our results showed that methanolic extracts from male plants have higher antioxidant activity (AOA) than that detected in extracts from female plants. On the other hand, male and female plant extracts from Bizerte showed the highest AOA level. For both sexes, Beja plant extracts have the lowest AOA. Certain phenolic compounds such as: narcissin, gallocatechin, rutin, epigallocatechin and epicatechin have been identified and quantified by LC-MS. On the other hand, the larvicidal activity of the various aqueous extracts of Mercurialis annua L. against the larvae of Tribolium confusum (Du Val) showed that the mortality could reach 100% after 48 hours of exposure for certain extracts, this is confirmed. by their low LC50. Furthermore, the study of the anti-acetylcholinesterase activity of the extracts tested shows that they are more potent AChE inhibitors than galantamine used as a positive control.Our study confirmed that extracts of the leaves and seeds of both sexes of Mercurialis annua L., coming from different regions of Tunisia, can therefore be exploited for other biological activities, among which the inhibitory action of AChE. Indeed, these extracts are rich in phenolic compounds, which gives them this therapeutic property against Alzheimer's disease and scavenging free radicals.
Ce travail rapporte le lien entre l'activité larvicide et la composition chimique des différents extraits des pieds mâles et femelles de Mercurialis annua L. une Euphorbiaceae souvent utilisées dans la médecine traditionnelle. Le matériel végétal exploité dans notre étude est ramassé dans quatre régions de la Tunisie situées dans des étages bioclimatiques différents : Bizerte, Jandouba, Nabeul et Beja. Cette étude comprend une première partie consacrée à une synthèse bibliographique. La deuxième partie est consacrée aux expérimentations et résultats. En effet, nous avons évalué l'activité antioxydante des différents extraits à l'aide d'essais DPPH. Les composés phénoliques ont été identifiés et quantifiés par chromatographie liquide couplée à un détecteur UV et à la spectrométrie de masse (LC-UV-ESI / MS). Nos résultats ont montré que les extraits méthanoliques des plantes mâles ont une activité antioxydante (AOA) plus élevé que celle détectée dans les extraits des plantes femelles. D'autre part, les extraits de plantes mâles et femelles de Bizerte ont affiché le taux d'AOA le plus élevé. Pour les deux sexes, les extraits de plantes de Beja ont la plus faible AOA. Certains composés phénoliques tels que : la narcissine, la gallocatéchine, la rutine, l'épigallocatéchine et l'épicatéchine ont été identifiés et quantifiés par LC-MS. D'autre part, l'activité larvicide des différents extraits aqueux de Mercurialis annua L. contre les larves de Tribolium confusum (Du Val) ont montré que la mortalité pouvait atteindre 100% après 48 heures d'exposition pour certains extraits, ceci est confirmé par leur faible LC50. Par ailleurs, l'étude de l'activité anti-acétylcholinestérase des extraits testés montrent que ces derniers sont des inhibiteurs de l'AChE plus puissants que la galantamine utilisée comme contrôle positif. Notre étude a confirmé que des extraits des feuilles et des graines des deux sexes de Mercurialis annua L., provenant des différentes régions de la Tunisie, peuvent donc être exploités pour d'autres activités biologiques, parmi lesquelles l'action inhibitrice de l'AChE En effet ces extraits sont riches en composés phénoliques, ce qui leur confère cette propriété thérapeutique contre la maladie d'Alzheimer et le piégeage les radicaux libres.
Fichier principal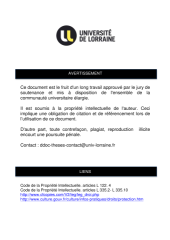 DDOC_T_2021_0155_BEN_NASR.pdf (8.83 Mo)
Télécharger le fichier
Origin : Files produced by the author(s)