Globule rouge et hémostase, 2 mondes pas si distincts.
Red blood cells and haemostasis, not that different worlds. We expose in the manuscript our professional career, both on the university and hospital areas, allowing the acquisition of skills covering 2 sides -for a long time separated- of haematology, haemostasis and red blood cells, and which converge within our project. We initially focused our career on the exploration of complex hemostatic disorders, such as sepsis, using thrombin generation test; in parallel, we progressively took responsibility for the exploration and diagnosis of RBCs disorders at Nancy's university hospital. Yet, the involvement of RBCs in normal haemostasis is now unquestionable. Therefore, this raises the question how to evidence and evaluate their contribution in haemostatic disorders, as for example, the hypercoagulable states observed in several RBCs congenital disorders, such as hemoglobinopathies. This is the chief point of our project. In addition, we present our large involvement in teaching and students' supervising, at both University and Hospital, and expose the different ongoing and future projects for pedagogical innovations.
Globule rouge et hémostase, 2 mondes pas si distincts. A travers cette candidature à l'Habilitation à Diriger des Recherches, nous exposons notre parcours, hospitalier et universitaire, qui nous a permis d'acquérir compétences et expériences dans deux domaines de l'hématologie plus particulièrement, l'hémostase et le globule rouge - domaines longtemps dissociés - pour aboutir au projet de synthèse et de convergence qui en émane. Nous avons consacré la première partie de notre cursus à acquérir une expertise dans la mise en évidence de désordres complexes de l'hémostase, notamment dans le sepsis, à travers l'utilisation du test de génération de thrombine. Par ailleurs, nous avons progressivement pris la responsabilité de l'exploration des pathologies érythrocytaires au sein du CHRU de Nancy. Or, l'implication des globules rouges dans les phénomènes hémostatiques physiologiques, jusque-là considérée comme insignifiante, est aujourd'hui largement admise. Notre projet repose sur la mise en évidence de leur contribution dans les déséquilibres hémostatiques, et notamment l'hypercoagulabilité décrite dans les pathologies constitutionnelles érythrocytaires. A côté de notre engagement en recherche clinique, nous présentons en outre notre forte implication en pédagogie et dans l'encadrement, tant à l'Université ou qu'à l'Hôpital, d'étudiants ou d'internes, afin d'évoquer nos projets en termes d'innovations pédagogiques dans le but de faire évoluer l'enseignement de notre discipline.
Fichier principal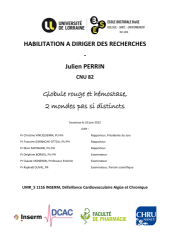 MEMOIRE HDR 2022 FINAL_ HAL.pdf (3.83 Mo)
Télécharger le fichier
Origin : Files produced by the author(s)