Interagir avec l'ordinateur en utilisant les gestes de la main . Application à la stimulation physique et cognitive sur les séniors
Nowadays, elderly people are more and more in touch with new technologies and particularly with computers. Interaction with this kind of system is now possible with hand gestures, thanks to devices like Nintendo's Wiimote or Microsoft's Kinect for example. In this paper, we propose to examine the interest of the seniors to interact on computers with hand gestures as the interaction modality instead of the traditional mouse and keyboard. We have developed in our laboratory an application dedicated to physical and cognitive stimulation, made up of an interface and a serious game. Both are controlled by hand movements and hand gestures. Opinions and feelings were collected and compiled in a questionnaire made with the cooperation of a psychologist on a set of 12 subjects.
Les personnes âgées utilisent de plus en plus les nouvelles technologies et plus particulièrement les ordinateurs. Des périphériques comme la Wiimote de Nintendo ou encore la Kinect de Microsoft permettent d'interagir avec l'ordinateur via les gestes de la main. Cet article décrit une étude qui permet d'examiner l'intérêt du geste de la main comme moyen d'interaction avec l'ordinateur pour les séniors. Nous avons développé en laboratoire une application à la stimulation physique et cognitive composée d'une interface et d'un jeu sérieux contrôlé par les mouvements et le geste de la main. Les opinions et points de vue ont été recueillis auprès de 12 personnes âgées et analysés à travers un questionnaire.
Fichier principal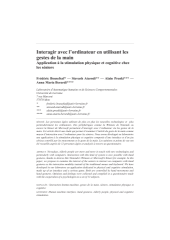 Publication_STH2.pdf (511.68 Ko)
Télécharger le fichier
Origin : Files produced by the author(s)