Les guides touristiques : vers de nouvelles pratiques discursives de contamination
Abstract. Following the traditional French school of discourse analysis, the discourse of French guidebooks is approachedas a discursive production registered in a social field, which tends to open up to other discursive practices through acontamination phenomenon. We examine how some extra-discursive communication practices (Internet, written pressand television) directly affect discursive practices by playing the role of evolution factors; we show how discursivepractices are less and less hermetic to other kinds of media. The information carried and the routine specific toguidebooks tend to shift to other discursive genres (multimedia or written press) which will in turn influence and shapethem according to their own standards. Whether it is carried out by the enunciation types of new media or bymagazines, the contamination is the result of an adaptation of the discourse of guidebooks to social practices. Thesediscourses fit into a social field, which is both specific (discourses with touristic content) and general (knowledgetransmission discourses), sometimes relying on discourse communities, which they contribute themselves to establish.
C'est selon la démarche de l'école française d'analyse du discours que nous abordons le discours des guides touristiques français comme une production discursive inscrite dans un champ social, mais qui tend à s'ouvrir à d'autres pratiques discursives par un phénomène de contamination. Nous nous interrogeons sur la manière dont des pratiques communicationnelles extra-discursives (internet, presse, télévision) influent directement sur des pratiques discursives en étant des facteurs d'évolution ; nous montrerons que les pratiques discursives sont de moins en moins étanches entre les différents médias : le contenu informatif et la routine, caractéristiques du guide touristique, ont tendance à s'exporter vers d'autres genres discursifs (multimédia, presse papier) qui, à leur tour, l'influencent et le modèlent selon leurs propres normes. Qu'elle s'effectue par le type d'énonciation des nouveaux médias ou par celui des magazines, la contamination est la résultante d'une adaptation des discours des guides touristiques aux pratiques sociales. Ces discours s'inscrivent dès lors dans un champ social qui leur est à la fois spécifique (le discours à teneur touristique) et général (les discours de transmission de savoirs), s'appuyant parfois sur des communautés discursives qu'ils contribuent eux-mêmes à établir.
Fichier principal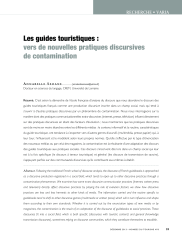 Revue Mondes du tourisme - Contamination dans les guides touristiques.2013.pdf (419.83 Ko)
Télécharger le fichier
Origin : Publisher files allowed on an open archive