« Le latin des Sententiae d'Isidore de Séville est-il "vulgaire" ? »
In 1998, P. Cazier published the first critical edition of the Sententiae of Isidore of Seville. In the linguistic study which comes before it he concludes that the Latin of the Sententiae is already vulgar, and also that it includes a much higher proportion of vulgarisms than other Isidore's works. I would like to question this conclusion. Admittedly the Sententiae contain some linguistic features which generally are regarded as vulgarisms, and the list offered by P. Cazier can even be expanded. But these vulgarisms are limited and sporadic: taken as a whole the Latin of the Sententiae is rather conservative. Moreover, if the language of the Sententiae is qualified as vulgar, then all Isidore's Latin should be considered so: actually the few vulgarisms which can be noticed in the Sententiae can also be found in his other works.
En 1998 Pierre Cazier publia la première édition critique des Sententiae d'Isidore de Séville. Dans l'étude linguistique qui précède l'édition, il affirme que le latin des Sententiae est déjà vulgaire, et qu'il présente en tout cas une proportion beaucoup plus élevée de vulgarismes que celui des autres œuvres d'Isidore. Or cette affirmation me semble inexacte : certes les Sententiae comportent plusieurs traits linguistiques qui sont généralement considérés comme des vulgarismes, et l'on peut même accroître encore la liste proposée par P. Cazier. Toutefois, ces vulgarismes sont limités et sporadiques : globalement le latin des Sententiae est en fait plutôt conservateur. D'autre part, si l'on devait qualifier la langue des Sententiae de vulgaire, c'est le latin d'Isidore dans son ensemble qui devrait être considéré comme tel, car les quelques vulgarismes observables dans les Sententiae se rencontrent aussi dans ses autres ouvrages.
Fichier principal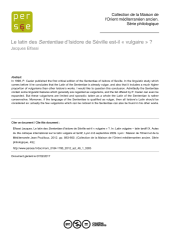 Le latin des Sententiae d'Isidore de Séville est-il « vulgaire ».pdf (388.87 Ko)
Télécharger le fichier
Origin : Publisher files allowed on an open archive