Évolution nosographique de la schizophrénie et « entente de voix »
This master's thesis deals with nosographic evolution of schizophrenia from DSM-IV-TR to DSM-5, using Clinician-Rated Dimensions of Psychosis Symptom Severity. This study also addresses the acoustic-verbal Hallucinations of "Voice hearers", using the Maastricht Interview developed by Romme and Escher (2000) to offer research aiming to be less stigmatizing and that is not reducible to symptomatology. The personality structure of Voice hearers is explored using the Rorschach test to assert or invalidate the relationship with the psychotic structure. Alternative or concurrent treatment perspectives are also discussed and this work ends with the limitations of the study and proposals for future research.
Ce mémoire se propose d'aborder, à l'aide de l'échelle d'évaluation dimensionnelle de la sévérité des symptômes psychotiques du DSM-5, l'évolution nosographique de la schizophrénie entre le DSM-IV-TR et le DSM-5. Cette étude s'intéresse également aux hallucinations acoustico-verbales des « entendeurs de voix » avec l'utilisation de l'entretien de Maastricht de Romme et Escher (2000) dans une perspective de recherche qui se veut moins stigmatisante et non réductible à une symptomatologie. La structure de personnalité des individus entendeurs de voix est explorée à l'aide du test de Rorschach afin d'affirmer ou d'infirmer la relation avec la structure psychotique. Des perspectives de soins alternatives ou concomitantes sont également abordées et ce travail se termine sur les limites de l'étude et des propositions de recherches futures.
Fichier principal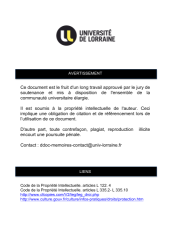 BUL_M_2017_BRAUN_ARTHUR.pdf (3.43 Mo)
Télécharger le fichier
Origin : Files produced by the author(s)