La reconfiguration du pluralisme de l'information opérée par les réseaux socionumériques
By enabling users to freely share news content from their newsfeed or from news websites, Twitter contributes to reconfiguring the balance of the content offered. This study on the sharing of French journalistic articles has enabled the authors to characterize in general terms a major trend in this reconfiguration, i.e. the fact that the news offer loses its original pluralism as it becomes concentrated on a very limited number of media. Going through Twitter enables the better-known media with stronger identities to play a key part in the structure of sharing. This effect is however not due exclusively to the media's productivity (number of articles put online), and to the size of its acquired audience (number of daily visits to its website). To better understand all the factors driving it, the authors analyse the relational rationales of sharing on socio-digital networks.
En offrant à ses usagers la possibilité de partager librement des contenus d'actualité depuis leur fil d'actualité ou depuis les sites d'information, Twitter contribue à reconfigurer l'équilibre des contenus offerts. Via notre étude sur le partage des articles journalistiques français, nous sommes capables de caractériser de manière globale une tendance majeure de cette reconfiguration : l'offre d'information perd son pluralisme originaire pour se concentrer sur un nombre très restreint de médias. Le passage à travers Twitter permet aux médias qui ont une plus forte réputation et identité de prendre une place majeure dans la structure des partages. Néanmoins, cet effet n'est pas dû exclusivement à la productivité du média (nombre d'articles mis en ligne) et à son stock d'audience acquise (nombre de visites quotidiennes sur son site). Dès lors, pour mieux comprendre tous les facteurs explicatifs de ce phénomène, nous proposons d'analyser les logiques relationnelles des partages sur le réseau socionumérique.
Fichier principal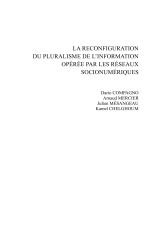 RES_205_0091-1.pdf (1.73 Mo)
Télécharger le fichier
Origin : Files produced by the author(s)