Signifiant et significatif. Réflexions épistémologiques sur la sémiotique et l'analyse des données
This paper is about data analysis in the human and social sciences, especially from a semiotic perspective. We begin by highlighting some epistemological resemblances between digital methods and immanent semiotic analysis. Then we recall the semiotic discussion about immanent and pragmatic approaches to meaning. We argue that the recognition of a pragmatic component in data analysis can bring about the constitution of a quali-quantitative approach to human and social data. The challenge is to find some procedures for transforming expressions, capable of giving access to their semantic dimension. To this end, statistical and semiotic competences have to be joined together.
L'article porte sur l'analyse de données en sciences humaines et sociales, en particulier selon une perspective sémiotique. Nous montrerons les affinités épistémologiques entre méthodes numériques et analyse sémiotique immanente. Ensuite, nous défendrons l'idée selon laquelle la discussion actuelle sur les limites des méthodes numériques reprend certaines des critiques qui ont suscité la constitution d'une approche pragmatique en sémiotique : l'analyse ne peut être détachée de l'interprétation. Cela peut conduire à formuler des méthodes quali-quantitatives d'enquête, qui sont plus qu'une juxtaposition de méthodes quantitatives et qualitatives traditionnelles. En effet, il s'agit d'identifier des procédures pour la transformation des expressions, capables de retrouver leur sens et leur dimension sociale sans aller au-delà des données. À cette fin, il est nécessaire de dépasser l'opposition entre qualitatif et quantitatif en couplant compétences statistiques et sémiotiques.
Fichier principal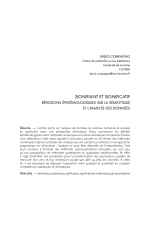 01_Dossier_03.pdf (2.76 Mo)
Télécharger le fichier
Origin : Publisher files allowed on an open archive