clinical and radiological study of a femoral revision stem with distal interlocking option after an average of 5 years' follow up (bicontact révision stem). About a series of 64 cases.
Etudes clinique et radiologique d'une tige fémorale de révision verrouillable au recul moyen de 5 ans. (tige bicontact[registered] révision). A propos d'une série de 64 cas
Plus de 120 000 prothèses de hanche sont posées chaque année en France et la chirurgie de reprise représente actuellement environ 15% des prothèses implantées. Bien que la technique de mise en place d'une prothèse de première intention soit aujourd'hui bien standardisée, il n'en est pas de même pour les reprises. Les avis s'opposent avec des concepts différents et des résultats peusatisfaisants.Nous évaluons une tige de reprise non cimentée, verrouillable sur une série rétrospective de 64 cas (tige Bicontact[registred] révision). L'analyse s'effectue à 1 an et au recul moyen de 5 ans. Elle porte sur l'amélioration clinique, la migration fémorale, la régénération osseuse, l'ostéointégration et les conséquences du verrouillage.Les résultats sont comparables à ceux des autres types d'implant sans ciment avec, au recul, un score PMA à 15,37, un taux de migration fémorale de 18%, une régénération osseuse dans 71% des cas selon Boisgard. L'ostéointégration selon Engh et Massin est supérieure à celle des autres séries avec 96% de tiges ostéointégrées. Le verrouillage n'est pas apparu comme une option suffisantepour pallier aux problèmes d'enfoncement et d'ostéointégration secondaire proximale.Cet implant pourrait être amélioré, d'une part sur le verrouillage, et d'autre part surl'ostéointégration métaphysaire par l'apport d'un traitement de surface bioactif sur la partie proximale de la tige.
Fichier principal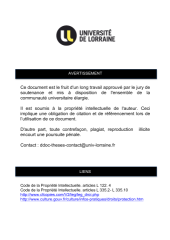 SCDMED_T_2010_GUIGNAND_DIDIER.pdf (7.54 Mo)
Télécharger le fichier
Origin : Files produced by the author(s)