Asthma in the pharmacy, its various therapeutic and advice on the use of various inhalation devices available on the market
L'asthme à l'officine, ses différentes thérapeutiques et conseils sur l'utilisation des différents dispositifs d'inhalation disponibles sur le marché.
L'asthme est une pathologie bronchique chronique courante très répandue en France et dans le monde puisqu'elle touche actuellement pas loin de 235 millions de personnes. C'est aussi une maladie très complexe du fait de sa physiopathologie, de ses étiologies diverses, de ses différentes thérapeutiques et des nombreux systèmes d'inhalation associés. Le pharmacien d'officine a un rôle primordial à jouer lors de la délivrance au comptoir. En effet, c'est à ce niveau et notamment au cours des entretiens pharmaceutiques que le pharmacien joue vraiment son rôle d'éducateur et de conseiller et est à même de juger l'observance du patient, souvent négligée aujourd'hui et pouvant être responsable du mauvais contrôle de la maladie. Le pharmacien, avec son obligation de formation continue, se doit de connaître lesdifférentes techniques d'utilisation des nombreux différents dispositifs d'inhalationcommercialisés afin de les enseigner aux patients, conditionnant l'efficacité de leurtraitement et a fortiori le contrôle de leur maladie ainsi que l'amélioration de leur qualité de vie. Cette thèse recense donc les diverses thérapeutiques antiasthmatiques, ainsi que les différentes techniques d'utilisation des différents systèmes d'inhalation et de nébulisation ainsi que les divers éléments à connaître sur l'asthme afin d'optimiser la délivrance par le pharmacien d'officine dans le cadre de la maladie asthmatique.
Fichier principal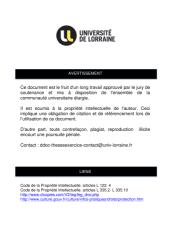 BUPHA_T_2016_MICHAUD_BENJAMIN.pdf (2.84 Mo)
Télécharger le fichier
Origin : Files produced by the author(s)