The preparation of doses to be administered : from theory to practice
La Préparation des Doses à Administrer (PDA) : de la théorie à la pratique.
Devant une population vieillissante de plus en plus polymédiquée, les progrès sanitaires et médicaux soulèvent une interrogation relative à la qualité du vieillissement des séniors. En effet, la dépendance croît avec l'âge et, face à des contraintes budgétaires et une pénurie de personnel de plus en plus importante, nombre d'établissements médico-sociaux, dépourvus de Pharmacie à Usage Intérieur (PUI), choisissent de confier aux pharmaciens d'officine le soin de préparer les doses à administrer (PDA) aux résidents. Cette prestation, réalisée à l'aide d'un automate, permet d'individualiser les prescriptions et de renforcer leur traçabilité.Cette expérimentation présente des avantages certains, tant pour les officines que pour le personnel infirmier des Établissements d'Hébergement pour Personnes Âgées Dépendantes (EHPAD) et les patients. Les pharmacies réintègrent l'une de leurs missions premières : la préparation desmédicaments. Le personnel infirmier des EHPAD retrouve du temps pour se consacrer plus largement à l'écoute des résidents. Ces derniers peuvent compter sur une meilleure prise en charge, tant sur le plan médical que pharmaceutique.Le Code de la Santé Publique définit l'acte de dispensation des pharmaciens commecomprenant notamment la préparation des doses à administrer des médicaments. Suite à différentes interprétations juridiques divergentes et en l'absence de réglementation encadrant la PDA, celle-ci n'est ni licite, ni prohibée en l'état actuel du droit. À ce jour, cette pratique est un sujet source d'ambiguïté et de controverse. La prudence s'impose dans l'attente de l'élaboration et l'entrée en vigueur d'un texte de loi.
Fichier principal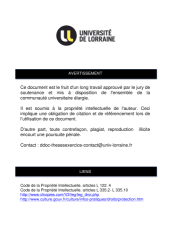 BUPHA_T_2013_DABROWSKI_LORENE.pdf (2.53 Mo)
Télécharger le fichier
Origin : Files produced by the author(s)