Long terme efficiency on sleepiness and sleep respiratory events of continuous positive airway pressure in obstructive sleep apnea syndrome
Efficacité à long terme de la pression positive continue sur la symptomatologie et les troubles respiratoires dans le syndrome d'apnées obstructives du sommeil
The aim of this retrospective study was to assess the effectiveness of theCPAP (continuous positive airway pressure) on symptoms and respiratoryevents, sevaral years after the beginning of this treatment in 132 consecutivesobstructive sleep apnea syndrome (OSAS) patients who had CPAP sincemore than four years. We showed that the level of needed pressure aregetting high and that CPAP is effective in correcting symptoms andrespiratory events in OSAS, several years after the beginning of thetreatment. The aim of the second part of the study was to study the effects ofCPAP on blood gases and spirometrics values. We have confirmed that aproportion of patients have a respiratory hypercapnic or not insufficiencywitch is increased by CPAP. Spirometrics are not modified by CPAP.Mecanisms of this respiratory insufflciency in OSAS patients and hercorrection by CPAP are unclear.
Des auteurs ont émis l'hypothèse d'une aggravation du syndrome d'apnées du sommeil (SAOS) au fil du temps. Il a été montré qu'il existe une variation intra-individuelle des niveaux de pression positive continue (PPC) efficace sur les symptômes du SAOS et sur les apnées. L'objectif de ce travail est l'étude de l'efficacité à long terme de la PPC sur les symptômes du SAOS et les apnées d'une part, la fonction respiratoire et la gazométrie artérielle d'autre part. Cette étude rétrospective a rassemblé 132 dossiers consécutifs de la cohorte ayant eu uni diagnostic de SAOS entre 1993 et 2000 et avec un suivi de plus de 4 ans. Un questionnaire, une gazométrie, une spirométrie et un examen polygraphique Ont été réalisés systématiquement lors du diagnostic (t0) et au moins 4 ans après (t1).Entre t0 et t1, les symptômes s'améliorent (p<0,0001). La persistance de la somnolence est associée à un âge plus jeune (46 vs 54 ans) (p=0,0008). Il existe une amélioration de l'hématose. Chez les oatients hypoxémiques et normocapniques: augmentation de la PaO2 de 64 à 74 mmHg (p
Fichier principal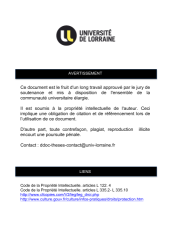 SCDMED_T_2005_GODBERT_BENOIT.pdf (4.61 Mo)
Télécharger le fichier
Origin : Files produced by the author(s)
Dates and versions
Identifiers
HAL Id :

hal-01732579 , version 1
Cite
Benoît Godbert. Efficacité à long terme de la pression positive continue sur la symptomatologie et les troubles respiratoires dans le syndrome d'apnées obstructives du sommeil. Sciences du Vivant [q-bio]. 2005.
⟨hal-01732579⟩
Collections