General medicine and children in danger: survey with twenty three general practitioners in Meurthe et Moselle, French department.
Médecine générale et enfance en danger : enquête auprès de 23 médecins généralistes de Meurthe et Moselle
25 à 50% des enfants dans le monde sont maltraités physiquement d'après l'OMS. En 2005 il y a eu 95000 signalements d'après l'ODAS. En 1998, en Meurthe et Moselle, il y a eu 3643 signalements. Seuls 1% des signalements proviennent des médecins généralistes. Ces professionnels rencontrent des difficultés dans la prise en charge de ces enfants et dans les situations d'informations préoccupantes ou de signalements. L'objectif de ce travail est d'établir un état des lieux des difficultés rencontrées par les médecins généralistes au cabinet. Le second objectif a été d'étudier l'impact des réformes légales récentes ainsi que le recours aux différents acteurs de la protection de l'enfance. L'étude s'est déroulée sous forme d'entretiens individuels semi-dirigés et de focus group auprès de médecins généralistes de Meurthe et Moselle, choisis aléatoirement parmi ceux inscrits sur les pages jaunes. L'analyse fait apparaitre 46 difficultés différentes liées au médecin lui-même, à l'enfant, à sa famille, ou aux procédures. Elle fait apparaitre également une méconnaissance des lois de 2004 et 2007, ainsi qu'une bonne connaissance des différents acteurs mais avec un recours préférentiel à l'hôpital. Chacune des difficultés rencontrées devient un frein pour le médecin généraliste, et, certaines sont insolubles. La méconnaissance de certaines lois est aussi un frein dans les démarches du médecin. Enfin le manque de contact entre le monde administratif et le monde médical parait rendre lui aussi le travail du médecin difficile. Cette étude pose les bases d'autres travaux destinés à améliorer le système actuel de protection de l'enfance.
Fichier principal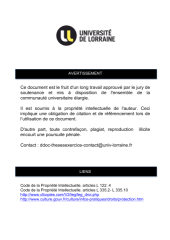 BUMED_T_2012_AUVITY_JEROME.pdf (2.1 Mo)
Télécharger le fichier
Origin : Files produced by the author(s)